Our Teams
Team 18-4053
Abhinav Yedla
Aneesh Bellam
Bhavesh Kemburu
Joe Camobreco
Team 18-4054
Malini Balachandran
Madison Zhao
Mayilan Thanigai
Stephen Jin
Susannah Gordon
Vivek Uppoor
Support
Bob Ekman
Samantha Steckel
Vince Camobreco

We invite members of our other projects to join us in building and launch activities. We have fun running around the launch fields and sometimes they have an opportunity to test quadcopters.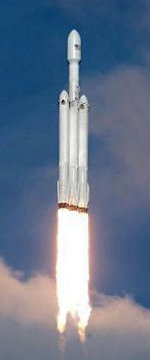 SpaceX Falcon Heavy

Explorer Post 1010 registered two teams in the 2018 Team America Rocketry Challenge (TARC). The main web site is http://www.rocketcontest.org/. The challenge is described in the 2018 Rules. This is a year-round activity. We started with experiments focused on the challenge in the summer and the fall. We recruited new members in the fall and started to design and build our competition rockets. During the winter and into the spring we test our rockets at least once a month.

We conducted three qualification flights for each team by April 2, 2018. Our objective was to be invited to the national fly-off on May 12. To determine the invites, TARC adds the scores of the two best qualification launches. The cut off for last year was 31.16, but the cut off for this year was 35.56. Both our teams made it with scores of 13.00 for team 4053 and 26.68 for team 4054. Here is a page on our trip to the finals.
Teams
This year we started with six members from last year. We recruited five new members in the fall and now have two teams. To be on a team you must be a dues paying member of Post 1010 and have your parents sign the TARC permission form. Members may switch teams until the first qualification flight. Members must participate in designing, building, and launching to remain on a team.
We met during normal Exploring Program meetings on Wednesdays for work sessions and on Saturdays and Sundays for launches. Each team built several rockets, including test rockets and backups for their best models. We documented our activities and results on these web pages.
Launch Sites

MDw - Heritage Farm Park in Walkersville, Maryland (map, picture). Park information at http://walkersville-md.com/parks-recreation/heritage-farm-park/. (39.49n,-77.34w,307a)

VA - Great Meadow (directions, map, picture), near The Plains, Virginia, off I66, west of Manassas. NOVAAR runs the launch. Their calendar is at http://www.novaar.org. This is the site of the National Fly-off. (38.83n,-77.81w,587a)

MD - Old National Pike Park, east of New Market, in Frederick county Maryland (directions, picture). NARHAMS runs the launch. Their launch calendar is at http://www.narhams.org/.

WV - Charles Town West Virginia, Oakland Church Field, west of Harpers Ferry (picture), run by the Blue Ridge Rocketeers.

When we launch in strong wind, our biggest concern is the loss of our rocket in the trees. We have plotted out launch limit maps for Maryland and Virginia launch sites.
We always need parents to drive to the launch sites. Participants should bring money for lunch or bring food when we are out all day. Wear appropriate clothing. Schedules can change at the last minute due to weather, so keep watching this web site, your email, and call if unsure.
Resources
Wind speed is a big problem for our rockets, so we check http://www.usairnet.com/cgi-bin/launch/code.cgi (Manassas, Frederick) before we launch. The Weather Channel is another source for weather at the Virginia Site and Maryland Site.
The Internet and email are important resources for our teams. Each member should sign up for the TARC Yahoo Group and review the recent emails and files.
| | | |
| --- | --- | --- |
| 2018 TARC Information | Our Team Information | Past Years |
| | | |