On Saturday, January 20, members from both teams traveled to the Great Meadow launch site for test flights. The day was mostly clear, with little wind, and warm. We used the NOVAAR launch rail, straight up. We completed 5 flights.

Temperature=60F, Pressure=29.90inHg, Wind=4-6mph, Altitude=580ft

Daniel Rohr brought a rocket with a 3D printed fin can. It flew with an F44-8W. It really looked and worked nice. Here is the video of the flight.

Objectives

Recover from our problems of our last launch (lawn dart and broken fin).
Test team 4053 red rocket with F39-6T.
Test team 4054 gold rocket with F44-8W.

Lessons

The red rocket had three nice flights.
We missed the video of oone of the red rocket flights.
The gold rocket had two nice flights but late deployment.
We had igniter issues with the F44-8W.
Launches

| | | | | | | | | | |
| --- | --- | --- | --- | --- | --- | --- | --- | --- | --- |
| Team | Rocket | Flight | Motor | Weight | Alt | Recovery | Altitude | Time | Comment |
| 4053 | Red (video) | 1 | F39-6 | 470g | 4 | 18" | 859ft | 41sec | Nice flight, score 59 |
| 4053 | Red (video) | 2 | F39-6 | 490g | 4 | 18" | 808ft | 37sec | Nice flight, score 24 |
| 4053 | Red (no video) | 3 | F39-6 | 490g | 4 | 24"X | 824ft | 48sec | Nice flight, score 44 |
| 4054 | Gold (video) | 1 | F44-8 | 462g | 11 | 2-15" | 814ft | 39sec | Nice flight, score 22 |
| 4054 | Gold (video) | 2 | F44-8 | 467g | 11 | 2-15" | 843ft | 42sec | Nice flight, score 43 |
Altimeter Data (Excel format)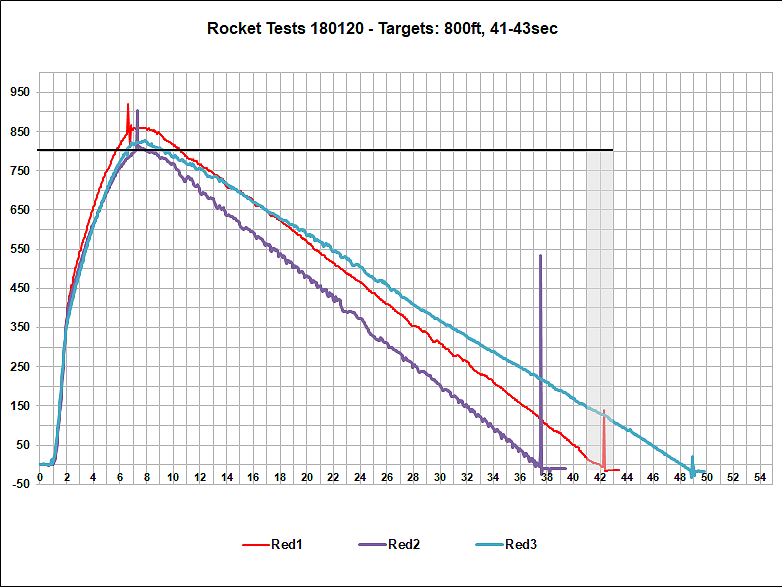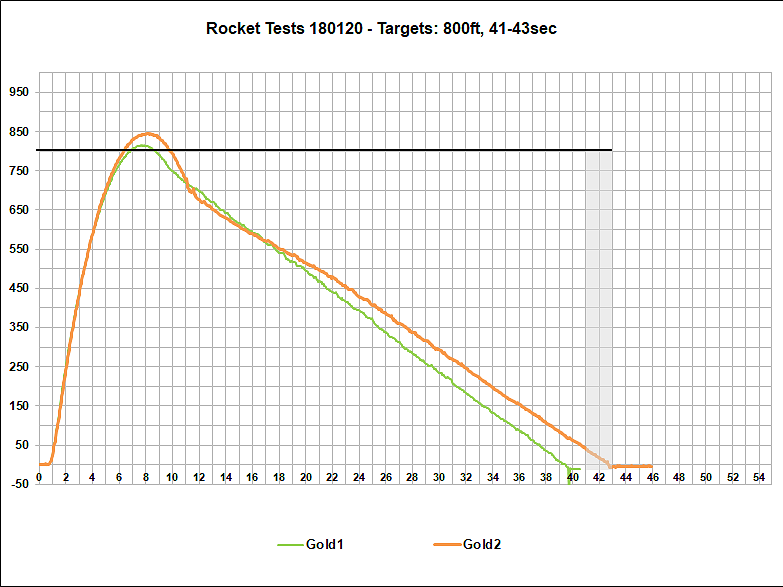 Pictures
Both Team Loading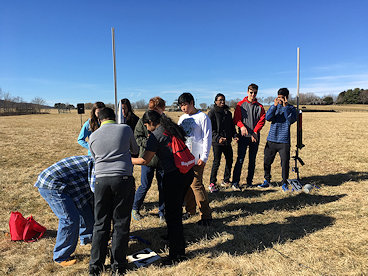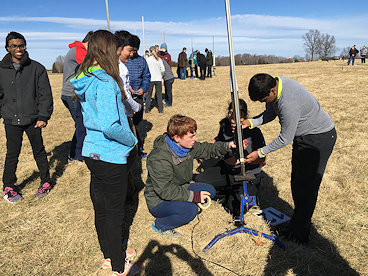 Connection Both Rockets Ready