On Monday, February 19, members from both teams traveled to the Walkersville launch site for test flights. The day was cloudy, but with little wind. Toward the end, we had a little mist. We completed seven test flights. We used the our launch rail, straight up.

Temperature=44F, Pressure=30.09inHg, Wind=3-8mph, Altitude=307ft

Objectives

Complete the tests we planned for February 10 at Great Meadow that were cut short for rain..
Test team 4053 rocket with weight around 500g.
Test team 4053 rocket with 20" chute.
Test team 4054 rocket with F24-7W.

Lessons

Red rocket (4053) and the F39-6T were a little short with less than 500g.
The 240inch round chute took too long to land. Back to the 24inch X chute.
The ejection time while a little early seemed to be about right.
Team 4054 tried three flights with an F24-7W. The ejection was late, and it came down too soon. The igniter sputtered, even with the First Fire Jr. They may go to F39-6Ts.
Launches

| | | | | | | | | | |
| --- | --- | --- | --- | --- | --- | --- | --- | --- | --- |
| Team | Rocket | Flight | Motor | Weight | Alt | Recovery | Altitude | Time | Comment |
| 4053 | Red (video) | 1 | F39-6T | 509g | 4 | 24"X | 749ft | 29sec | tangled chutes |
| 4053 | Red (video) | 2 | F39-6T | 500g | 4 | 20" | 786ft | 58sec | too much chute |
| 4053 | Red (video) | 3 | F39-6T | 498g | 4 | 24"X | 783ft | 42sec | nice flight, score 17 |
| 4053 | Red (video) | 4 | F39-6T | 483g | 4 | 24"X | 783ft | 43sec | nice flight, score 17 |
| 4054 | Gold (video) | 1 | F24-7W | 488g | 11 | 2-15" | 727ft | 32sec | late deployment |
| 4054 | Gold (video) | 2 | F24-7W | 469g | 11 | 2-15" | 754ft | 33sec | late deployment |
| 4054 | Gold (video) | 3 | F24-7W | 470g | 11 | 2-15" | 683ft | 29sec | late deployment |
Altimeter Data (Excel format)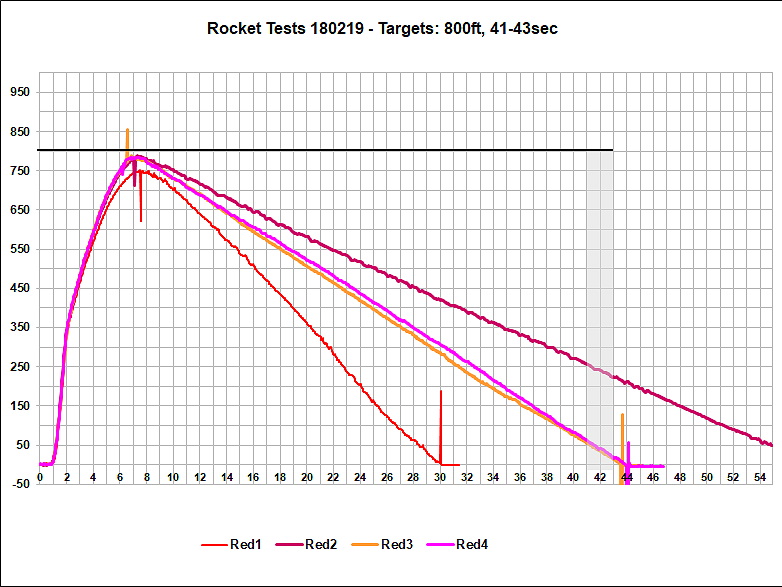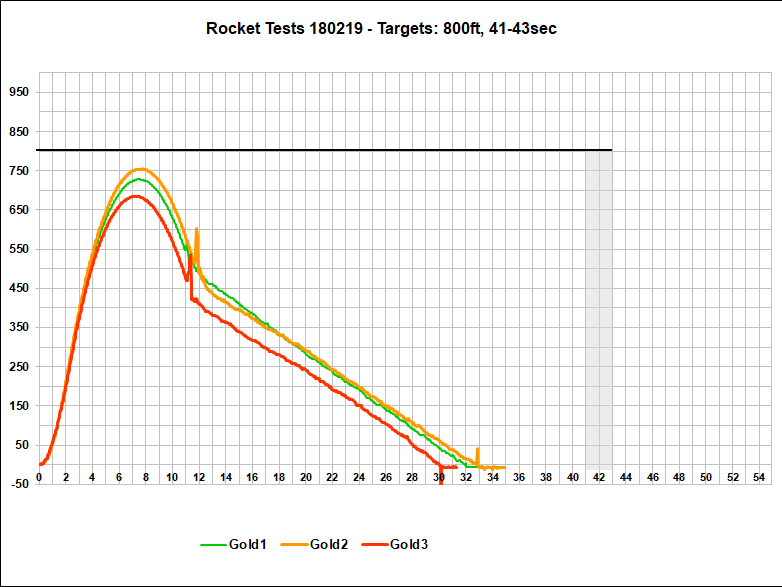 Pictures
Teams Loading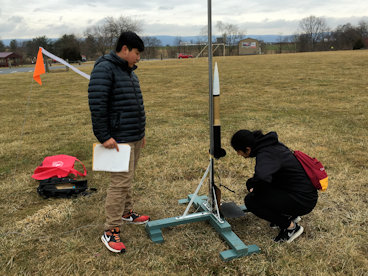 Igniter Connected Launching