Explorer Post 1010
Unmanned Aircraft Systems (UAS) 2018
Explorer Post 1010 signed up again for the 2018 UAS4STEM (Unmanned Aircraft Systems) competition. We had great success in 2017 and decided to try it again. This time we want to make it to the national competition and get an award.
Previous
2017
2016


UAS4STEM requires the students to build and fly a mid-size quad-copter through a competition course in a limited time. A team is limited to 8 members, who must complete an on-line training session. The regional tournament is in spring, and if selected, the national competition is in August. Every member of the team needs to be a member of the Academy of Model Aeronautics (AMA). A free youth membership is available at https://www.modelaircraft.org/joinrenew.aspx.

During the winter, we reviewed the on-line training and refreshed the quadcopter. We are reusing the Quadzilla from last year, but it requires improvements and additions, mainly a mechanism to drop paint balloons on a target. Here is the 2018 Rulebook We needed more description since the rules had many gaps.


The Mission

Your team has been called upon to complete a waypoint and payload delivery mission using a small Unmanned Aircraft System (sUAS). In addition to building the sUAS, teams will also be tasked with the design and build of a delivery mechanism that can support the designated payload.

To support this mission, your UAS must comply with Special Instructions (SPINS) for departure and arrival procedures, and then remain within the assigned airspace. It will be tasked to search an area for items of interest and to conduct point reconnaissance. A UAS that can accurately deliver supplies (paint balloons) and information where directed will be in high demand.

Our Team

Austin Long
Joe Camobreco
Ragini Balachandran
Sri Kanipakala
Vivek Uppoor



The team is extremely fortunate to have Tom May as our adult mentor. He is very experienced with quadcopters and an engineer extraordinaire. He made this a great program.

Here is a slideshow and a video

(40MB)

of our practice sessions.

In the spring we practiced at the King Farm farmstead. Here is a map to the test site. We got ready for the regional competition with a presentation and lots of practice.
Regional Competition
Slideshow
On Sunday, April 29, 2018, we traveled to Hollywood MD for the regional competition. We were the only team to compete, since everyone else had finished the day before. Our presentation went great, the autonomous flight worked well, the target search was successful, and we dropped some balloons. The winds caused us to miss some, but we still came in third and were invited to the national competition.

Videos: Setup

(19MB)


Auto Flight

(182MB)


Search Flight

(115MB)


Drop Flight 1

(126MB)

Drop Flight 2

(42MB)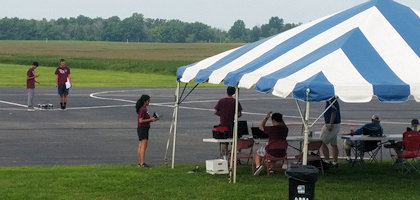 National Competition Slideshow

On Saturday, August 18, 2018, our team competed in the national UAS4STEM competition in Muncie Indiana. We had two vans, 5 team members, and 4 adults that travelled from Rockville. The team arrived the day before and were able to practice on the field, something they didn't do last year.

It was a beautiful day and our team had a great start. Our presentation was highly scored. The autonomous flight was perfect. Our search for the 8 targets took two separate flights. As we were returning to load the balloon our quadcopter cut power and crashed from 40 feet. We could not continue.

We are waiting on the scoring sheets to see where we placed. The letters spelled ICING, but we thought the C and G were Os.

Videos: Auto Flight

(52MB),

Search Flight

(82MB),

Search Flight Crash (79MB), Model Jets (67MB)