Explorer Post 1010
Unmanned Aircraft Systems (UAS) 2017


Explorer Post 1010 signed up a team for the 2017 UAS4STEM (Unmanned Aircraft Systems) competition. We had fun and a great experience in 2016. We decided to try it again. This time we want to make it to the national competition

UAS4STEM requires the students to build and fly a mid-size quad-copter through a competition course in a limited time. A team is limited to 8 members, who must complete an on-line training session. The regional tournament is in spring, and if selected, the national competition is in August. Every member of the team needs to be a member of the Academy of Model Aeronautics (AMA). A free youth membership is available at https://www.modelaircraft.org/joinrenew.aspx.

During the winter, we completed the on-line training and refreshed the quadcopter. We are reusing the Quadzilla from last year, but it requires improvements and additional. In the spring we practiced at the King Farm farmstead. Here is a map to the test site. We got ready for the regional competition with a presentation and practice.
Our Team

Austin Long
Eric Rong
Joe Camobreco
Matthew McCallum

Meehir Bhalla
Ragini Balachandran
Sri Kanipakala
Vivek Uppoor



The team is extremely fortunate to have Tom May as our adult mentor. He is very experienced with quadcopters and an engineer extraordinaire. He is ready and able to make this a great program.

Here is a slideshow on our practice sessions this year. Also check out last year (2016).

2017 Quadzilla Build Manual V2 - build instructions for 2017.


Regional Competition Slideshow

On Saturday, April 29, 2017, our team traveled to Hollywood MD near the mouth of the Patuxent for the regional competition. It was a long drive and it was a long day. Because of the draw for start time, and some competition issues, we waited for 10 hours before we got to compete. Our presentation when perfect. The autonomous flight worked well. We had some problems with the search and report flights, but completed the tasks. Our team came in third out of 15 teams and were invited to the national competition in August in Indiana.

Videos: Setup

(25MB)

Auto Flight

(85MB)

Search Flight

(65MB)
National Competition
Slideshow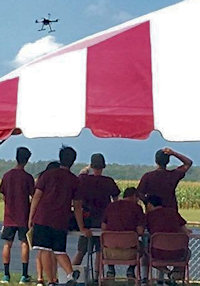 On Saturday, August 19, 2017, our team competed in the national UAS4STEM competition in Muncie Indiana. We had three vans, 7 team members, and 5 adults that travelled from Rockville the day before. It was a beautiful day and our team had a great time. Our presentation was highly scored. The autonomous flight had some problems getting off correctly and missed an early command giving us a low score. The search and report flight was almost perfect. They were looking for eight letters and found the correct longitude and latitude of all eight but misidentified the last letter as an A (it was a Y). The letters spelled AUTONOMY.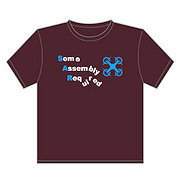 The team came in fourth out of the nine nationally selected teams. We just missed getting a third place award. Here are our scoring sheets.

Videos: Setup

(22MB)


Failed Auto Starts 1

(25MB),

2

(18MB),

3

(11MB)


Auto Flight Start

(68MB),

Auto Flight Return

(41MB)


Search Flight

(38MB),

Wrapup

(30MB)



In the days following the competition, some of the team headed to Tennessee to view the total eclipse on August 21. It was the great Post 1010 Road Trip of 2017.