Our engineering exploring program entered the Botball 2006 robotics education program. This is our fifth year participating in the program. We had two teams entered in the DC Regional competition in May. Both teams participated in the national conference and competition in Norman, Oklahoma during July.

This is our home page for the project. This is where you can find out how we are doing.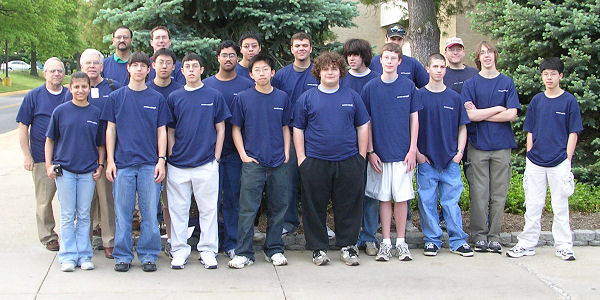 ---
Research Project
Our Research Project never got off the ground last year, but we only did a little better this year. It is hard to get high school students interested in an academic project. The subject is described at http://www.botball.org/current-season/rd_web_site_challenge.php. We needed to submit the two best research projects by February 8, 2006. A template of the web site is here.
Here is what we submitted for Team 1 and Team 2.
The Greater DC regional competition started at the workshop on Saturday, March 11 and Sunday, March 12 at Maryland University in College Park. We had 4 teens and two adults attending the workshop.
First, we conducted a skill survey to see how we matched up to the skill needs. Some teens have a lot of skills in robotics, and some have very few. Our challenge is to have everyone grow.
After the workshop, we met every Wednesday and Saturday until the competition. We augmented those hours with special meetings when school is out and during the last week.
We kept a journal of our activities. It has a calendar and other important documents.
The regional tournament was Saturday, May 6 at the Ritchie Coliseum at Maryland University. We had a very successful day. Team 1 (06-0157) and Team 2 (06-158) came in 4th and 3rd overall, respectively. Team 2 came in 2nd in the seeding rounds. Both teams made the Final 16 and both teams received Judge's Choice awards.
National Conference and Tournament
The National Botball Conference and Tournament was July 7-10, 2006 in Norman, Oklahoma. We sent two teams to the conference and competition. They faced strong competition, but both teams did well and one made the final 16. We recorded the event and captured a lot of videos. Review of these efforts will give us some lessons for next year.
Beyond Botball Project
The 2006 Beyond Botball competition was announced in December 2005. You can see the project description at http://www.botball.org/current-season/beyond_botball.php. The advisors entered a team and competed at the National Conference. They made very effective robots and won the competition at Norman, OK in July.
Here is one design we were considering our for Beyond Botball project.
Resources
Here are some web sites that will help us understand robotics.
Domo arigato, Mr. Roboto