Our engineering exploring program has entered the Botball 2005 robotics education program. This is our fifth year participating in the program. We have two teams entered in the DC Regional competition and are planning to go to the national competition in Jacksonville, Florida during July.

This is our home page for the activity. This is where you can find out how we are doing.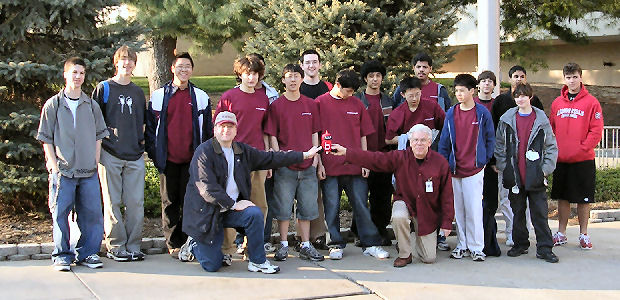 ---
Research Project
Our Research Project never got off the ground. While we submitted something, we never finished. Here is what we entered... Team 1, Team 2
Journal
We are keeping a Journal of sessions, including video and pictures. This is part of our documentation for the project.
Videos
We created two "exciting" videos to supplement our project and our official documentation.
Regional Tournament
Our robotics project had great success at the Regional Botball Tournament on May 7 at Maryland University. Out of 54 teams, one team came in 4th and the other team came in around 20th. It was a great experience and everyone enjoyed themselves. You can see pictures and videos in our Journal.
National Conference and Tournament
We took a group to the National Botball Conference and Tournament in Jacksonville, Florida, July 14-18. We fielded two teams and a Beyond Botball team. Out of 37 teams, we came in 14th and 15th. Both teams made it to the final competition. Our Beyond Botball team came in 2nd and won Judges Choice.
We are collecting pictures and videos. Here is our web page with all the details.
Resources