On Saturday, May 11, members of teams 5180 and 5181 traveled to the Walkersville launch site for a test of their TARC finals rocket. The day was very cloudy, with very light wind. We used our launch rail and got off three flights. We think we are ready for the finals.

Temperature=72F, Pressure=29.67inHg, Wind=1-5mph, Elevation=331ft

Objectives

Both teams need to record one flight with a motor from the pack that they will use at the finals the next week. It gives them a notice on the power of the motor.
Tram 5181 needs to fly their backup rocket.
Team 5180 needed to try a new streamer for the booster.

Lessons

We got flight characteristics for the motor pack we will use in the finals.
Our cargo chutes seem to come down too slow, either increase spill holes or shorten the shrouds.
If Team 5180 streamer worked OK.
Team 5181 backup rocket flew OK.
Team 5180 used altimeter #11 which did not record the flight, they should use #12.
Launches
Team
Rocket
Flight
Motor/Lot/Pack
Weight
Alt
Recovery
Altitude
Time
Comment
5180
Multi (video-9465)
1
F39-6 04091808 A2
499
11
2-14" 2x30"
913
51sec
Nice flight, high,
altimeter failed
5181
Pink (video-9459)
1
F39-6 04091808 B2
501
13
2-14" 10"
822
46sec
Nice flight, low
5181
Purple (video-9472)
1
F39-6 04091808 6
500?
13
2-14" 10"
816
47sec
Nice flight, still low
Altimeter Data (Excel format)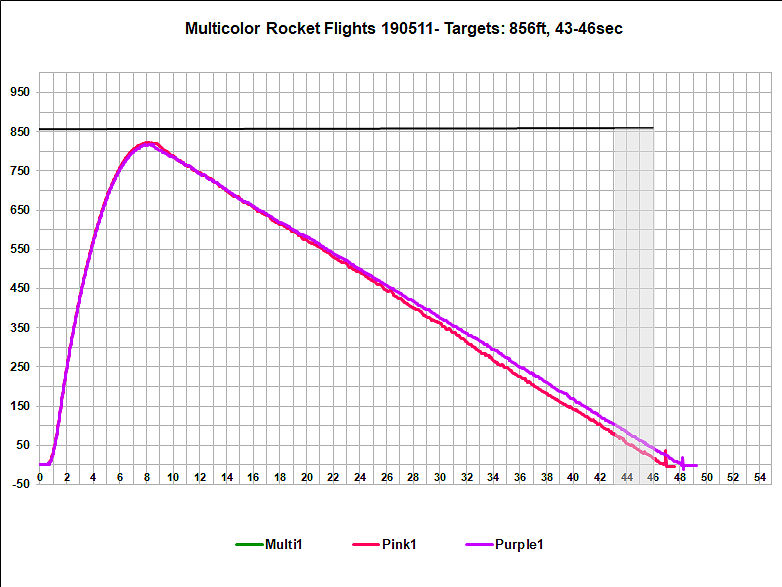 Pictures
Team 5180 Team 5181