On Saturday, March 2, a few members from all teams traveled to the Great Meadow launch site for test flights. The day was cool and cloudy, but almost no wind. We used the NOVAAR launch rails, straight up. We again got off six flights in about two hours. We learned some important lessons.

Temperature=43F, Pressure=29.44inHg, Wind=1-4mph, Elevation=587ft

Objectives

Fly multiple flights with F39-6 motors from same lot number and pack.
Fly one rocket with F39-6 from previous launch lot number.
Refine the chute deployment so no DQs.
Get apogee data points around 500g.
Fly new altimeter 14.
Get ready to qualify in March.
Lessons
Five flights were relatively straight. The second Multicolor rocket had a chute ejection right after launch, most likely motor assembly issue.
Everyone flew F39s. The Multicolor rocket flew the third motor from one of the lot packages used in the last launch.
The flights with the same lot and package gave mixed results. We need to analyze this.
The Gold and Pink rocket had issues with descent times. We need to reduce the chute drag (14 inch with spill or choking)
First Multicolor rocket flight had tangled chutes. The others were OK.
The first flight of the Pink rocket was low. We had problems with the igniter falling out and it may have been that the igniter was not fully in. When we tape the igniter in, we need to put the table across the hole and under the motor ring. And then we need to punch a hole in the tape.
Altimeter 14 worked OK. We now think the issues with altimeter 11 in the gold rocket in the previous launch was caused by the lack of air holes in the new cargo unit.
We did an autopsy on the motors for all the motorss. We believe the motor issues were confirmed - the motor with the early ejection was assembled incorrectly and the motor with the low flight had the igniter inserted low. See the report.
Launches

| | | | | | | | | | |
| --- | --- | --- | --- | --- | --- | --- | --- | --- | --- |
| Team | Rocket | Flight | Motor/Lot/Pack | Weight | Alt | Recovery | Altitude | Time | Comment |
| 5179 | Gold (video-8949) | 1 | F39-6 04091808 1 | 490g | 14 | 2-14"/10" | 864ft | 49sec | nice flight, slow descent |
| 5179 | Gold (video-none) | 2 | F39-6 04091808 1 | 498g | 14 | 2-14"/10" | 874ft | 54sec | nice flight, slow descent |
| 5180 | Multi (video-8911) | 1 | F39-6 04091808 | 487g | 12 | 2-14"sp/12" | 872ft | 45sec | ok flight, chutes tangled |
| 5180 | Multi (video-8948) | 2 | F39-6 04091808 2 | 504g | 12 | 2-14"sp/12" | 545ft | 10sec | crash, ejection immediately |
| 5181 | Pink (video-8922) | 1 | F39-6 04091808 3 | 508g | 13 | 2-14"/10" | 808ft | 41sec | nice flight, low, igniter issue |
| 5181 | Pink (video-8955) | 2 | F39-6 04091808 3 | 494g | 13 | 2-14"/10" | 877ft | 51sec | ok flight, high, slow descent |
Altimeter Data(Excel format)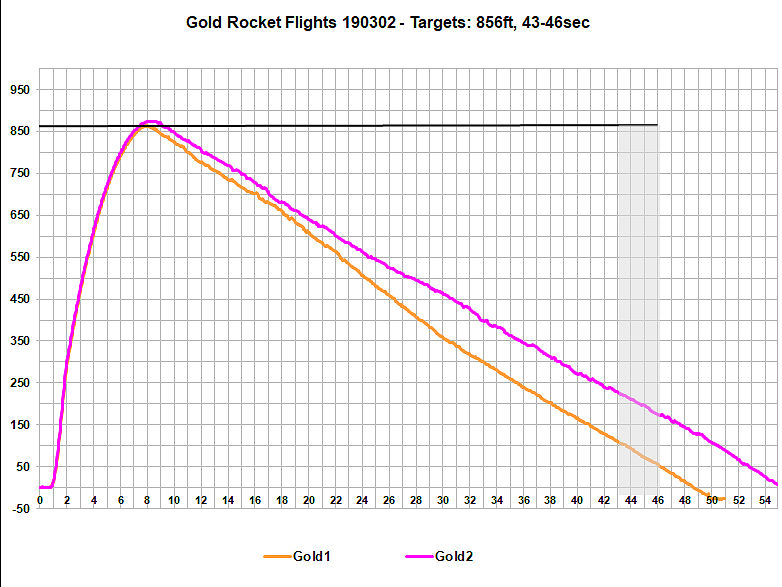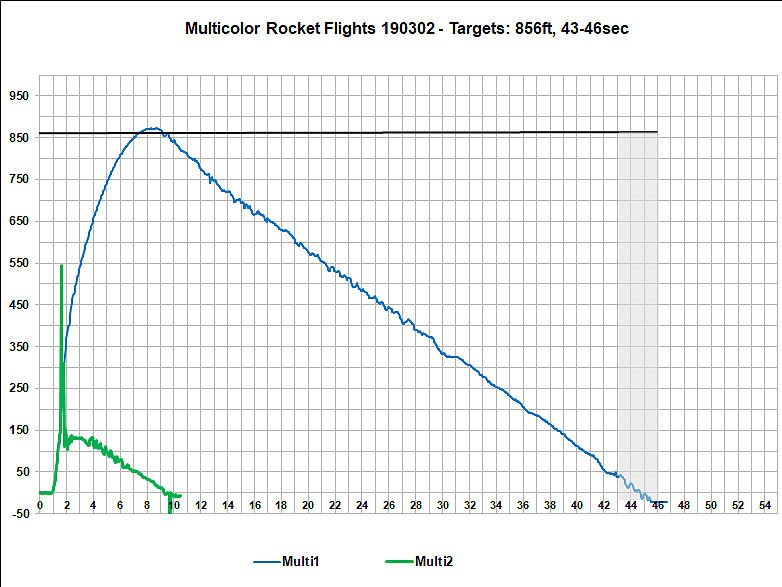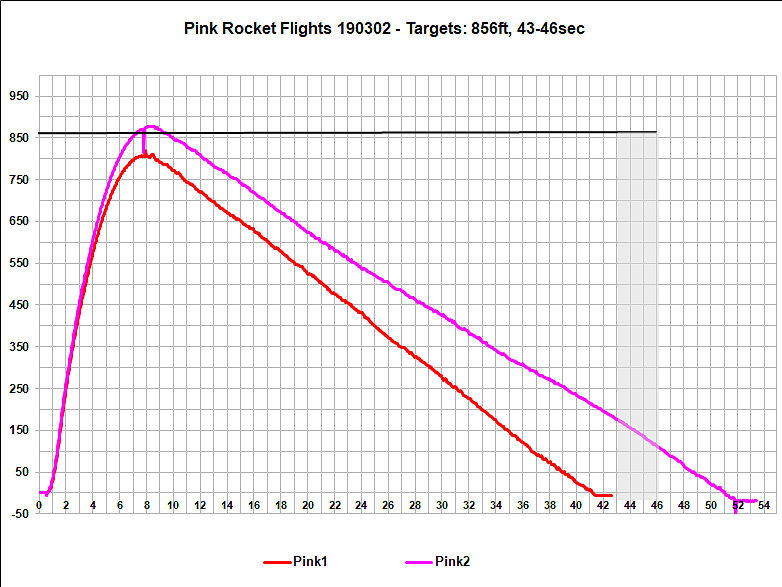 Pictures
Loading Another Loading