On Monday, January 28, members from all teams traveled to the Walkersville launch site for test flights. The day was cold, but clear and almost no wind. We used our launch rail, straight up.

Temperature=34F, Pressure=29.70inHg, Wind=2-6mph, Altitude=331ft

Objectives

First flight of the Multicolor rocket for Team 5180.
Try to get the weight correct for altitude of 856ft..
Refine the chute deployment so no DQs
Experiment to see if motor lot number is significant - fly three motors in different rockets and compare altitudes. We need to track lot numbers.

Lessons

The new Multicolor rocket flew nice. All flights were relatively straight..
Everyone flew F39s..The two from the same lot flew about the same altitude. The teams were confused on using the third from the same lot.
The two flights that were too high may be from the same lot from the previous launch day.
The Gold rocket failed to fully deploy its chutes and crashed, requiring a rebuild of the cargo unit.
The Pink rocket again had a chute tangle.
The teams started taking pictures of their weigh in better record.
Launches

| | | | | | | | | | |
| --- | --- | --- | --- | --- | --- | --- | --- | --- | --- |
| Team | Rocket | Flight | Motor/Lot | Weight | Alt | Recovery | Altitude | Time | Comment |
| 5179 | Gold (video) | 1 | F39-6 04091808 | 502g | 11 | 2-15"/12" | 862ft | 19sec | chute didn't deploy, crash |
| 5180 | Multi (video) | 1 | F39-6 | 504g | 12 | 2-15"/12" | 849ft | 47sec | nice flight, score=11 |
| 5180 | Multi (video) | 2 | F39-6 xxxx | 506g | 12 | 2-15"/12" | 884ft | 50sec | ok flight, too high |
| 5181 | Pink (video) | 1 | F39-6 04091808 | 505g | 13 | 2-15"/12" | 850ft | 50sec | nice flight, chute tangled |
| 5181 | Pink (video) | 2 | F39-6 xxxx | 503g | 13 | 2-15"/12" | 892ft | 48sec | ok flight, too high |
Altimeter Data (Excel format)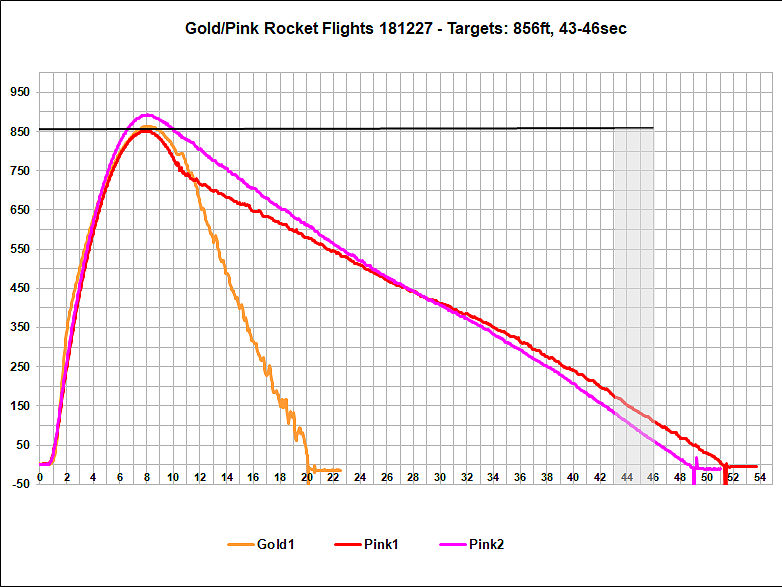 Pictures
Team 2 Team 3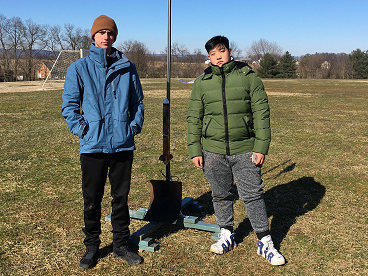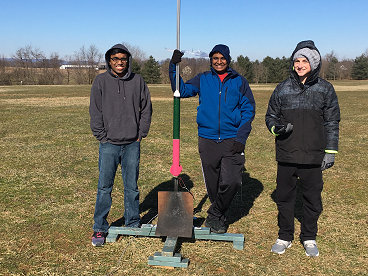 Loading