On Saturday, October 6, members from the Post traveled to the Great Meadow launch site for test flights. The day was cloudy, but warm and no wind. We used the NOVAAR launch rail, straight up. We flew old rockets with three eggs to help new members gain experience.

Temperature=74F, Pressure=29.51inHg, Wind=2-4mph, Altitude=587ft

Objectives
Give new members some experience flying rockets.
Practice the launch process.
Use old BT80 rockets with old F39-6T motors from last spring.
Lessons
We enjoyed the nice weather.
Nice flights but not high enough with F39s..
Check altimeter beeping on rail, second blue flight forgot to reset altimeter.
Don't pack the chutes too close.
Make sure cargo/booster connection is straight.
Check weight twice, to be sure.
Igniter insertion needs to be correct and deep enough but not forced attention.
Launches

| | | | | | | | | | |
| --- | --- | --- | --- | --- | --- | --- | --- | --- | --- |
| Team | Rocket | Flight | Motor | Weight | Alt | Recovery | Altitude | Time | Comment |
| | Blue (video) | 1 | F39-6 | 536g | 11 | 2-15"/60" | 689ft | 25.22sec | chutes twisted with streamer |
| | Blue (video) | 2 | F39-6 | 536g | none | 2-15"/60" | 7??ft | 46.4sec | forgot to turn on altimeter, best flight |
| | Gold (video) | 1 | F39-6 | 503g? | 13 | 2-15"/60" | 627ft | 35.25sec | wiggled, not straight, fin broke on fence |
| | Gold (video) | 2 | F39-6 | 544g | 11 | 2-15"/60" | 645ft | 34sec | sputter ignition |
Altimeter Data (Excel format)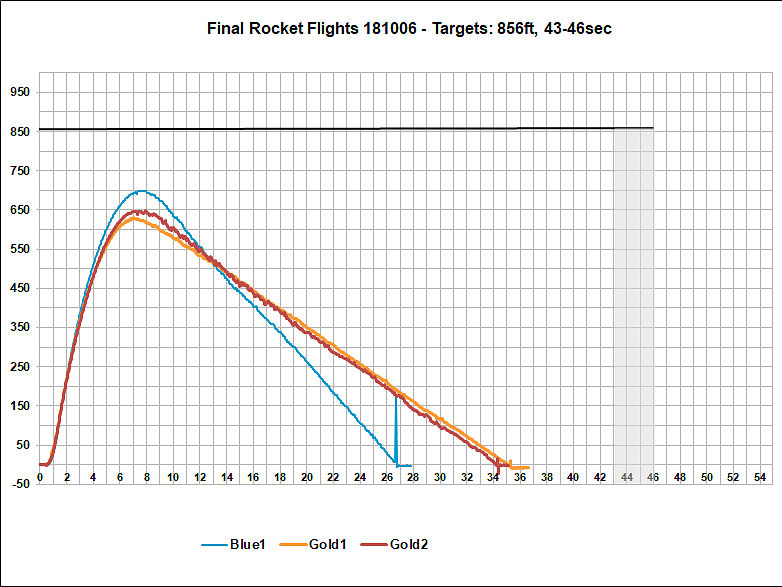 Pictures
Rockets Loading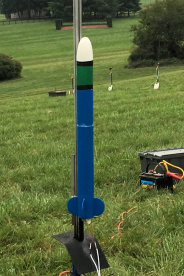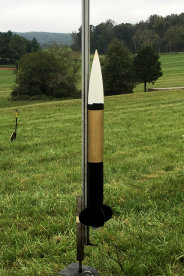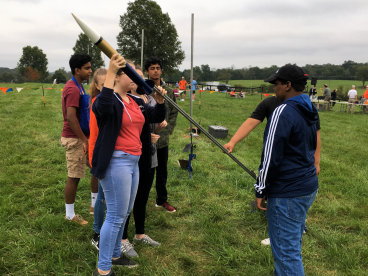 Team Waiting