On Saturday, March 12, members from both teams traveled to the Great Meadow Virginia launch site for qualification flights. The day was partially cloudy, around 40 degrees, but little wind. We got off 7 flights. We used the site's launch rails.

Objectives

One qualification flight for the Red/White/Blue rocket at 400g with an E20-7.
One qualification flight for the Pink rocket at 312g with an E12-6.
Test the pink backup rocket.

Lessons

The red rocket performed nicely for the two test flights, and the pink rocket performed nicely for the single test flight.
The new pink rocket had nice altitude, bur a problem with the deployment of the chute. A fin broke and needs repair.
The red rocket qualification flight had the chute and streamer tangled, finally deployed, but landed in a tree.
The pink qualification flight had a problem with the altimeter (not turned on?).
The official qualification flight was too heavy and did not reach a good altitude.
No eggs broken and no lost rockets.
We prepared the site's launch rail by cleaning, lubricating, and pointing with the wind. We used the same rail for all of the red rocket flights and the same for all the pink rocket flights.
We need to do better for the final qualification flights.
Launches
Team
Rocket
Flight
Motor
Weight
Alt
Recovery
Altitude
Time
Comment
2661
Pink

(video)
1
E12-6
315g
11
12", 4x40"
808ft
52sec
Nice flight
2661
Pink

(video)
2
E12-6
328g
11
12", 4x40"
?ft
38sec
No altimeter data, failed qualification attempt
2661
Pink

(video)
3
E12-6
334g
10
12", 4x40"
684ft
38.19 sec
Qualification 1, way too low,
Score 104.24
2661
PinkNew
(no video)
1
E12-6
333g?
11
12", 6x60"
796ft
49sec
Chutes didn't fully deploy, fin broke
2662
Red

(video)
1
E20-7W
399g
10
14", 4x40"
837ft
51sec
Nice flight, little too high
2662
Red

(video)
2
E20-7W
423g
10
14", 4x40"
782ft
36sec
Nice flight, descent too fast
2662
Red

(video)
3
E20-7W
426g
10
14", 4x40"
768ft
27.65sec
Qualification 1, stutter ignition, chute snagged on streamer, landed in tree
Score 60.38
Altimeter Data (Excel format)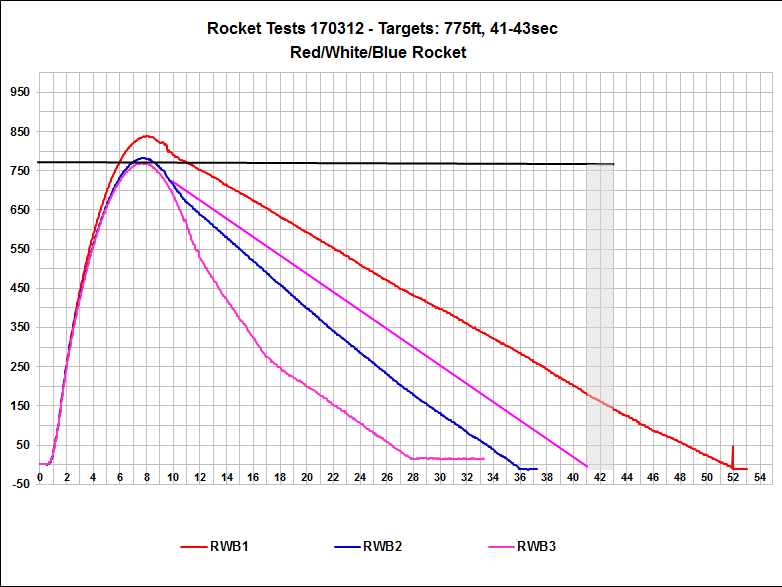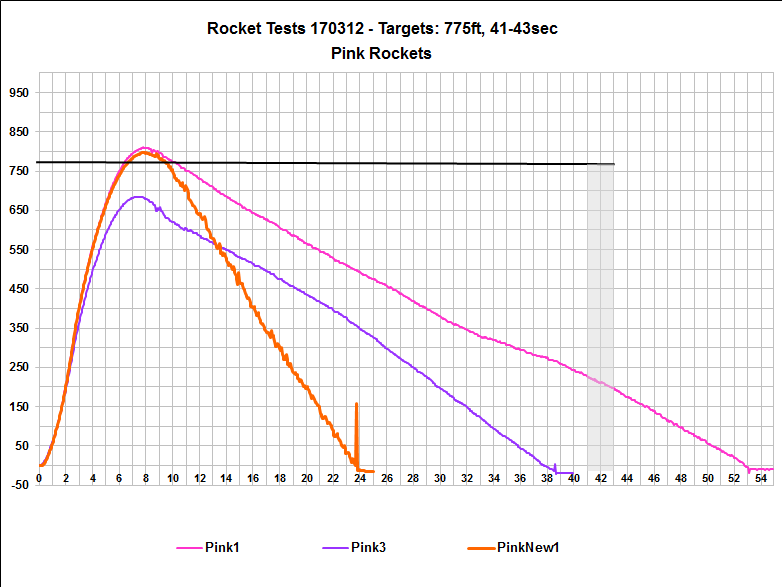 Pictures
Team 2661 Team 2662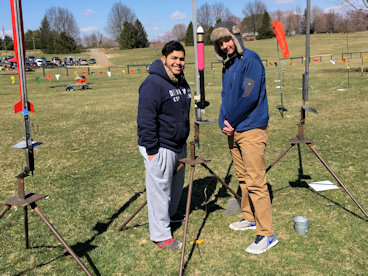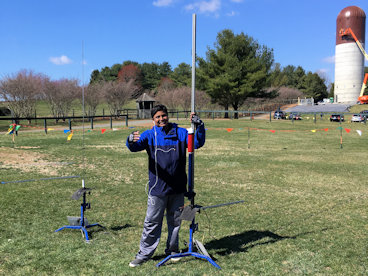 Loading