On Monday, January 2, members from both teams traveled to the Walkersville park launch site for test flights. The day was cloudy with light rain, but little wind (around 5mph). We got off 4 flights.

Objectives

Test a weighted down Red rocket with E30 and then E20 motors.
Test the Pink rocket with E9-6 Estes black powder motors.
Get more data on streamer and parachute sizes descent times.

Lessons

It was very wet, with a little rain by the end of the launch, but it did not seem to effect the flights. Could not see deployment in mist.
The Red rocket went too high at 365g. The E30 went higher than the E20 at the same weight. It may be possible to add enough weight to bring the Red rocket down to 775ft by adding about 40g with the E20.
The igniter for the E20 sputtered.
The E9s seemed to fly straight because of little wind.
The Red rocket had tangled chute and streamer in the first flight.
The Pink rocket had its streamer rip off - perhaps a DQ. We need to tape the edges of the Mylar streamers.
Descents were way too long, try 12 inch chute.
No eggs broke, and we recovered all rockets.
Launches
Team
Rocket
Flight
Motor
Weight
Alt
Recovery
Altitude
Time
Comment
2661
Pink

(video)
1
E9-6
292g
11
15/2", 4x56"
811ft
62sec
nice flight, too long descent
2661
Pink

(video)
2
E9-6
300g
11
15/2", 4x56"
797ft
24sec
lost streamer, chute didn't fill
2662
Red

(video)
1
E30-7T
365g
10
15", 6x60"
948ft
52sec
chute/streamer tangled
2662
Red

(video)
2
E20-7W
365g
10
15", 6x60"
882ft
67sec
way too long descent
Altimeter Data (Excel format)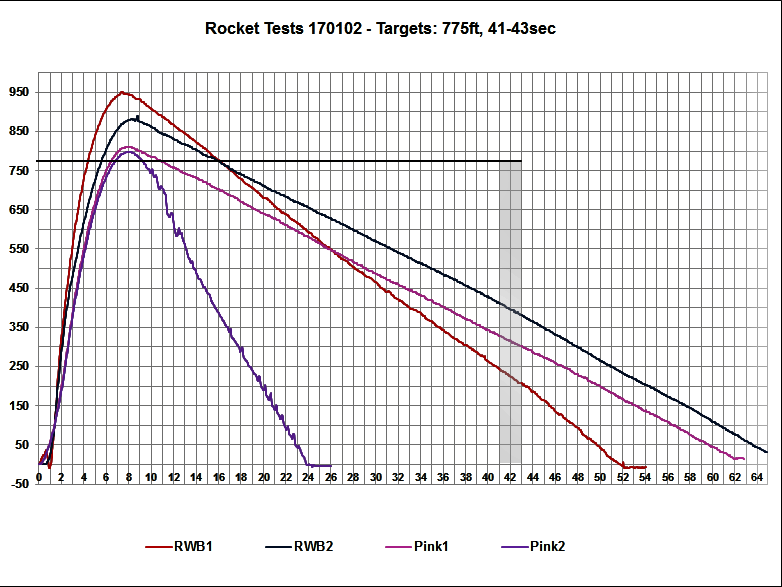 Pictures
Preparing Team 2661