On Sunday, March 29, members from all teams traveled to Great Meadow VA for our final qualification flights. The day was clear, very cool (mid 30s f), with wind early, dropping to almost calm. We used the NOVAAR club 7ft launch rails. We were there to fly rockets!

Objectives

Complete all our final qualification launches (three for team 267, two for team 265, and one each for teams 266 and 406).

Here is what we submitted for qualification.

| | | | |
| --- | --- | --- | --- |
| team | best | 2nd best | total |
| 15265 | 32.76 | 37.04 | 69.80 |
| 15266 | 47.00 | 69.40 | 116.40 |
| 15267 | 49.72 | 50.28 | 100.00 |
| 15406 | 21.88 | 31.04 | 52.92 |
Lessons
It was great seeing all the teams up with a rocket on a rail at the start of the launch day (10am).
We conducted many launches, all rockets returned, no broken eggs, and no tangled recovery. Most flights looked nice. We completed all our qualification flights with no disqualifications..
Team 15265 Red rocket had a disastrous lawn dart flight with a failed ejection charge. This is the second manufacturing issue this year. The team recovered well, put together another back up rocket and completed their qualification flight with reasonable scores. The failed motor was returned to AeroTech and they sent replacements. The altimeter was slightly damaged. We needed to wash all the egg off the altimeter. It could be used next year.
Team 15267 has an issue with not getting the altimeter to reset. Their first qualification flight used the altitude of the previous test flight.
Overall, our flights were inconsistent, but not sure why. We need to wait to see if any teams make the finals.
Finals Qualification
Unfortunately, none of our teams made the finals. The cut off for the finals was 40.00. Last year the cutoff was 54.12. We will be sitting out the finals this year. We need to do some analysis as to why the flights were inconsistent.
Launches
Rocket
Engine
Rail
Cargo
Recovery
Weight
Results
Comments
Red 1
Team 15265
E20-7W
7t ?d
1 egg,
altimeter 6
15" round, 1" spill
6x60" streamer
395g
225g
814ft,
48sec
video, nice flight
Test Score 14
Red 2
Team 15265
E20-7W
7t ?d
1 egg,
altimeter 6
15" round, 1" spill
6x60" streamer
395g
222g
776ft,
51.26sec
video, wobble flight
Qualification Score 37.04
Red 3
Team 15265
E20-7W
7t ?d
1 egg,
altimeter 6
15" round, 1" spill
6x60" streamer
395g
227g
855ft,
16sec
no video, lawn dart
no score
Red/Gold 4
Team 15265
E20-7W
7t ?d
1 egg,
altimeter 6
15" round, 1" spill
6x60" streamer
817ft,
43sec
video, nice flight
Test Score 29
Red/Gold 5
Team 15265
E20-7W
7t ?d
1 egg,
altimeter 6
15" round, 1" spill
6x60" streamer
819ft,
42.56sec
video, nice flight
Qualification Score 32.76
Orange 1
Team 15266
E30-7T
7t ?d
1 egg,
altimeter 10
15" round, 2" spill
6x60" streamer
374g
190g
708ft,
47sec
video, way too low
Test Score 92
Orange 2
Team 15266
E30-7T
7t ?d
1 egg,
altimeter 10
15" round, 2" spill
6x60" streamer
822ft,
46sec
no video, nice flight
Test Score 22
Orange 3
Team 15266
E30-7T
7t ?d
1 egg,
altimeter 10
15" round, 4" spill
6x60" streamer
747ft,
41.90sec
video, too low
Qualification Score 69.40
Turquoise 1
Team 15267
E20-7W
7t ?d
1 egg,
altimeter 4
15" round, 3" spill
12" round, 2" spill
367g
180g?
848ft,
43sec
video, too high, fast descent
Test Score 60
Turquoise 2
Team 15267
E30-7T
7t ?d
1 egg,
no alt data
15" round, 3" spill
12" round, 2" spill
?ft,
51.175sec
video, altimeter not reset
Qualification Score 60.68
Turquoise 3
Team 15267
E30-7T
7t ?d
1 egg,
altimeter 4
15" round, 3" spill
12" round, 2" spill
825ft,
39.82sec
no video, too high, fast descent
Qualification Score 49.72
Turquoise 4
Team 15267
E30-7T
7t ?d
1 egg,
altimeter 4
15" round, 1" spill
12" round, 2" spill
830ft,
40.93sec
video, too high, fast descent
Qualification Score 50.28
Blue 1
Team 15406
E30-7T
7ft ?d
1 egg,
altimeter 9
15" round, 3" spill
6x60" streamer
367g
160g?
825ft,
59sec
video, nice flight, too long descent
Test Score 107
Blue 2
Team 15406
E30-7T
7ft ?d
1 egg,
altimeter 9
15" round, 3" spill
6x60" streamer
369g
160g?
790ft,
48sec
video, nice flight
Test Score 10
Blue 3
Team 15406
E30-7T
7ft ?d
1 egg,
altimeter 9
12" round, no spill
6x60" streamer
369g?
160g?
782ft,
39.41sec
video, nice flight, too short descent
Qualification Score 45.96
Altimeter Data (Excel format)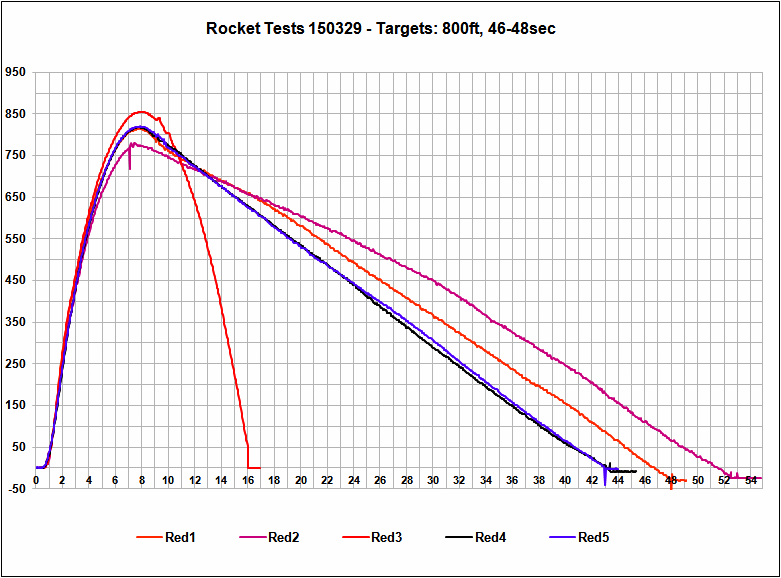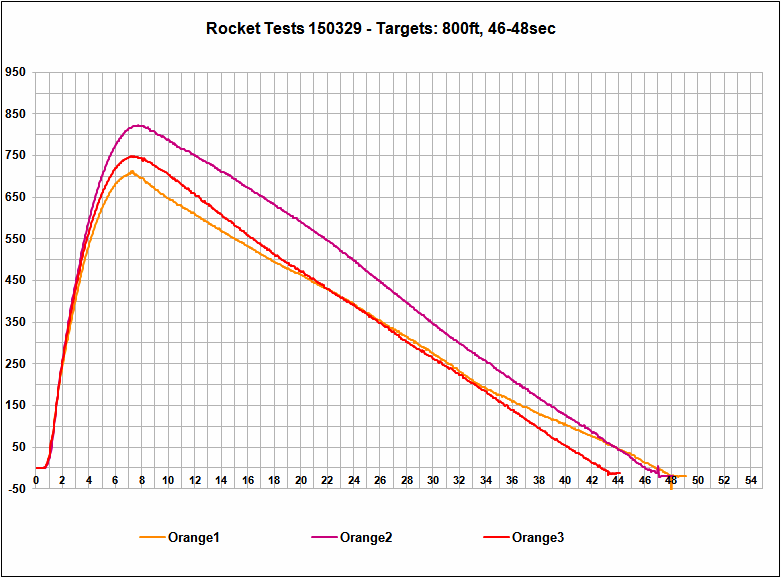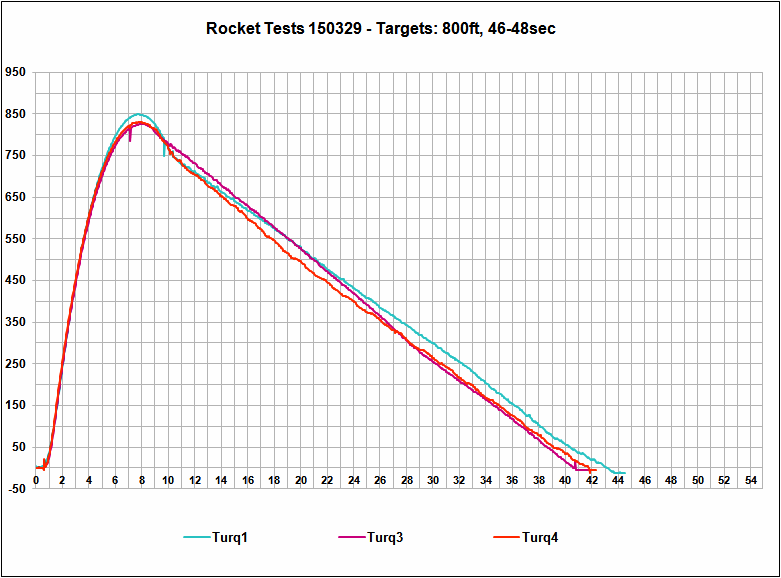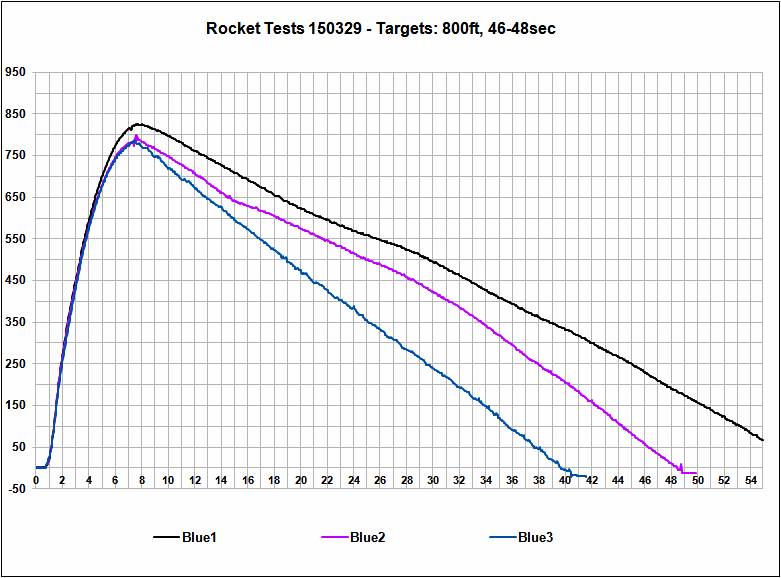 Pictures
Team 15265 Team 15406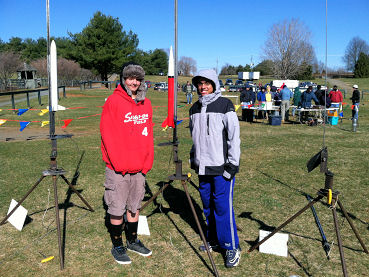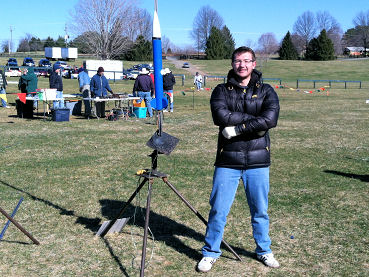 Team 15267 Loading the Rockets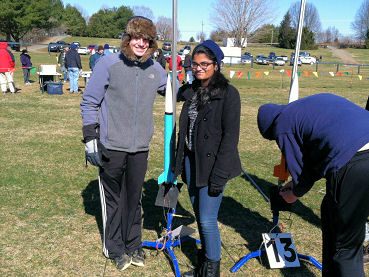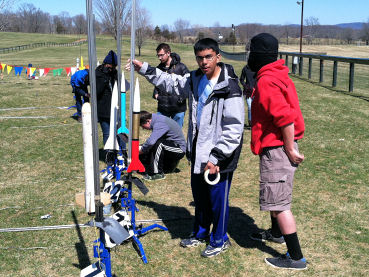 Loading More Rockets