On Friday, February 27, 4 members from two teams traveled to Walkersville MD to conduct some test launches. The day was clear, cold, with some wind gusts around 10mph. We used our 7ft launch rail to conduct 5 flights.

Objectives

Test each team's primary rocket.
Team 15265 will try their new rocket - unpainted.

Lessons

Team 15265 new rocket flew better than their gold/green rocket. They need to get it painted. They need to consider a spill hole in the 15" chute.
Team 15266 orange rocket ejection charge failed. Rocket crashed. They need to make a new rocket and use a new altimeter.
Team 15267 rocket flew nice - may need to add a little weight.
Team 15406 blue rocket flew straight, but to high. They will need 20+ grams to bring it down.
All the rockets flew higher than anticipated. It may have been the weather (clear and very cold).
Our cell phones had issues in the cold - they just shut down.
Crash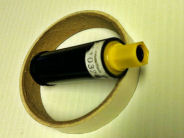 Team 15266 flew their orange rocket to refine their flight data. They used a recently purchased E30-7T (12 motors from the same manufacturing lot). The launch was fine, but appeared high. The ejection charge did not go off and the rocket "lawn darted" into the frozen ground. There was lots of damage, including the connectors on the altimeter. We were able to get the data off the altimeter, but altimeter 8 may never fly again.
In order to test the viability of the other E30s, we fired another motor bound to the launch rail. It worked fine (see the video).
The failure was recorded at the Malfunctioning Engine Statistical Survey (MESS) web site. The motor clearly never fired the ejection charge (see the plug in the ejection hole). The motor was sent back to AeroTech for reimbursement.

Launches
Rocket
Engine
Rail
Cargo
Recovery
Weight
Results
Comments
Gold 1
Team 15265
E20-7W
7ft 0d
1 egg,
altimeter 6
12" round
6x60" streamer
342g
170g?
695ft,
26sec
video, Sputter ignition, wobble ascent, tangled recovery
New 1
Team 15265
E20-7W
7ft 0d
1 egg,
altimeter 6
15" round
6x60" streamer
324g
178g
972ft,
59sec
no video, OK flight, too high, landed in tree, descent too long, recovered
Orange 1
Team 15266
E30-7T
7t 0d
1 egg,
altimeter 8
12" round
6x60" streamer
349g
170g?
866ft,
16ec
video, nice flight, too high, no ejection, lawn dart
Turquoise 1
Team 15267
E20-7W
7ft 0d
1 egg,
altimeter 4
15" round, 1" spill
10" round
360g
153g?
826ft,
54sec
video, nice flight, a little to high, recovered
Blue 1
Team 15406
E20-7W
7ft 0d
1 egg,
altimeter 9
18" X
6x60" streamer
342g
160g?
892ft,
61sec
video, nice flight, way too high, landed in tree, descent too long, recovered
Altimeter Data (Excel format)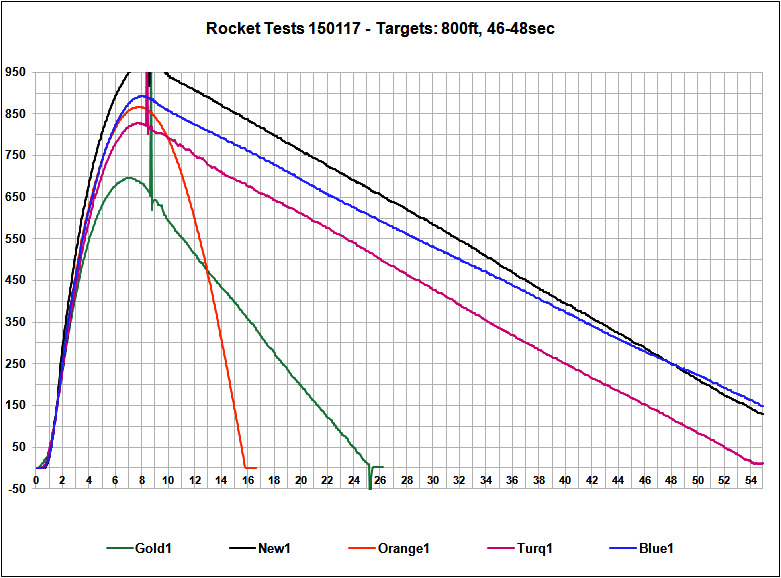 Pictures
Team 15266 Team 15267 Motor Test Firing