On Saturday, January 17, members from all four teams traveled to the Great Meadow VA launch site for test flights. The day was clear, cold, with some wind gusts around 10mph. We used the NOVAAR launch rails. We conducted 7 flights.

It was a rather disappointing day. The flights were not as consistent as the previous launches, and we left one rocket in a tree. We are going to need more testing before we qualify.

Four weeks later we received a phone call from a team mentor in Virginia. They found the altimeter from the rocket in the tree on February 14 at Great Meadow. They only found the back of the altimeter holder with the altimeter attached. They mailed it back to us. We don't know what happened to the cargo body, nose cone, and egg. They got our number because we wrote it on the altimeter holder.

Objectives

Test flights of all our team rockets.
Team 15406 will try a larger parachute.
Team 15265 will try their new rocket - unpainted.

Lessons
Team 15265 needs to figure out why their rocket flies so inconsistently. Their descent was fine.
Team 15266 had two flights, both had sputter ignition - perhaps the igniter was not in tight or the ignition pressure was light. The second flight had some wind cocking and could have used an launch rail angle.
Team 15267 tried an E30, but it flew too high. It also got tangled during recovery. They went back to an E20, but with the wind and a launch rail angle to avoid the trees, the flight was too low.
Team 15406 had one flight and it landed in a tree. We tried to recover it with a bow and arrow, but the wind and faulty fishing reel failed to recover. We did recover the booster and streamer.
The return of our altimeter shows we must write our name and phone number on every part of our rockets.
Launches
Rocket
Engine
Rail
Cargo
Recovery
Weight
Results
Comments
New 1
Team 15265
E20-7W
6ft 0d
1 egg,
altimeter 6
15" Round
6x60" Streamer
362g
180g
727ft,
45sec
no video, OK flight, too low
New 2
Team 15265
E20-7W
6ft 0d
1 egg,
altimeter 6
15" Round
6x60" Streamer
355g
190g
518ft,
31sec
no video, squirrely ascent, major wind cocking
Orange 1
Team 15266
E30-7T
6t 0d
1 egg,
altimeter 8
12" Round
6x60" Streamer
359g
181g
789ft,
42ec
video, sputter ignition, OK flight
Orange 2
Team 15266
E30-7T
6ft 0d
1 egg,
altimeter 8
12" Round
6x60" Streamer
358g?
181g?
712ft,
50sec
video, sputter ignition, wind cocking
Turquoise 1
Team 15267
E30-7T
6ft 0d
1 egg,
altimeter 4
12" Round
10" Round
354g
153g?
866ft,
25sec
video, too high, recovery tangled
Turquoise 2
Team 15267
E20-7W
6ft 0d
1 egg,
altimeter 4
12" Round
10" Round
371g
153g?
756ft,
35sec
no video, too low
Blue 1
Team 15406
F44-8W
6ft 0d
1 egg,
altimeter 7
18" Round
6x60" Streamer
493g
291g
823ft,
44sec
video, nice flight, landed in tree, recovered 4 weeks later
Altimeter Data (Excel format)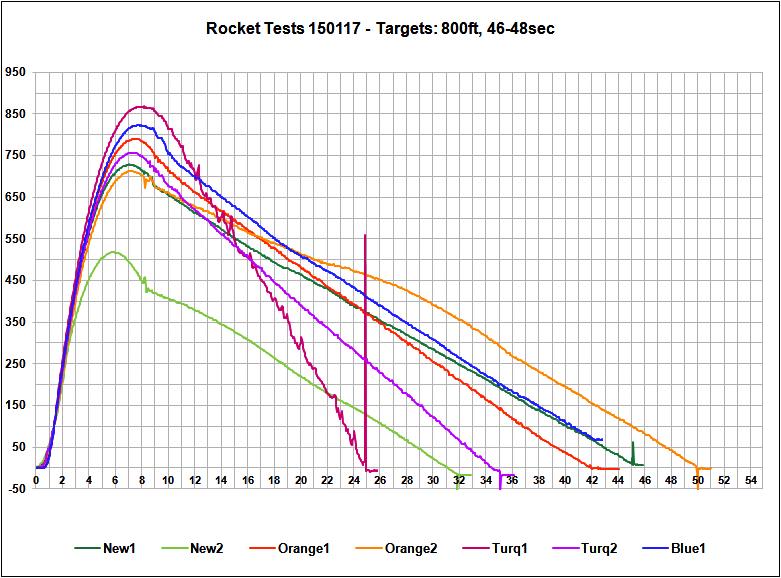 Pictures
Team 15266 Team 15267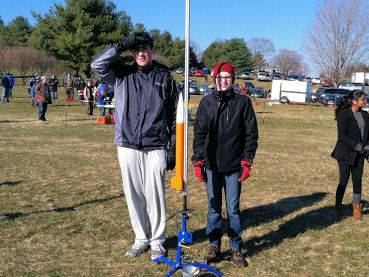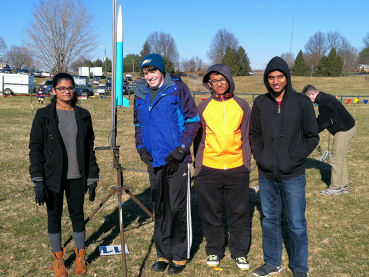 Team 15406 Loading