On Saturday, November 15, members from all four teams traveled to the National Pike Park M launch site for test flights. The day was relatively nice, some gusts around 10mph. We used the our 7ft launch rail and NARHAMS launch rail. We conducted 8 flights. We left one in a tree.


Objectives

Test flights of all our newly built rockets.
We will us several different E motors.
Teams will fly with cargo units using a parachute and boosters using a streamer for recovery. Split recovery is a TARC 2015 requirement.
Lessons
Team 15265 needs to focus on why both rockets have wobbly flights.
Team 15266 black rocket went into the trees. It may have been a little unstable. They need to build a new rocket.
Team 15267 had two nice flights but big diffeences in altitude. They need to find the proper weight for 800ft.
Team 15406 had on very straight flight, but the E20 could not get this rocket to 800ft.
Launches
Rocket
Engine
Rail
Cargo
Recovery
Weight
Results
Comments
Green 1
Team 15265
E20-7W
6ft 0d
1 egg,
altimeter 6
15" Round
6x60" Streamer
371g
201g
721ft,
55sec
video, another video, not straight, streamer didn't deploy
Green 2
Team 15265
E30-7T
6ft 0d
1 egg,
altimeter 6
15" Round
6x60" Streamer
371g
201g
862ft,
61sec
no video
Gold 1
Team 15265
E20-7W
6ft 0d
1 egg,
altimeter 6
12" Round
6x60" Streamer
355g
190g
792ft,
42sec
video, wobble, not straight
Gold 2
Team 15265
E20-7W
6ft 0d
1 egg,
altimeter 6
12" Round
6x60" Streamer
355g
190g
822ft,
48sec
no video
Black 1
Team 15266
E20-7W
6t 0d
1 egg,
altimeter 5?
12" Round
6x60" Streamer
352g
188g
?ft,
?sec
video, another video, wobble, not straight, landed in tree
Turquoise 1
Team 15267
E20-7W
6ft 0d
1 egg,
altimeter 4
12" Round
10" Round
304g
153g
970ft,
62sec
video, nice flight, altimeter spike,
too high
Turquoise 2
Team 15267
E20-7W
6ft 0d
1 egg,
altimeter 4
12" Round
10" Round
368g
153g
775ft,
43sec
no video
Blue 1
Team 15406
E30-7T
6ft 0d
1 egg,
old altimeter
12" Round
6x60" Streamer
384g
194g
733ft,
37sec
video, another video, straight, but low
Altimeter Data (Excel format)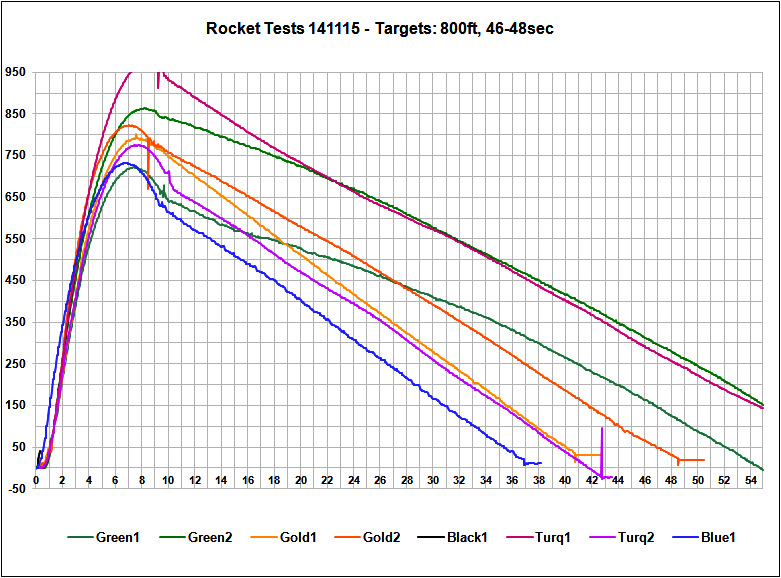 Pictures
Team 15265 Team 15266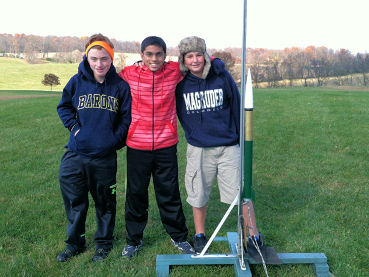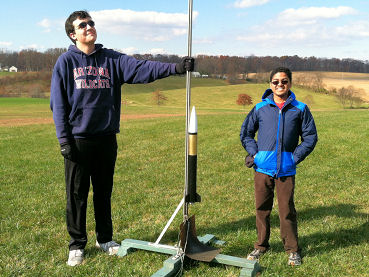 Teams 15267 Team 15406