On Saturday, March 15, nine members from all four teams traveled to a Great Meadows VA launch site for qualification flights. The weather changed considerably during the launch. When we arrived, it was nice (50d) and almost no wind. Two hours later the wind was 14mph.

We conducted 8 flights - two for each team. We used the 7ft launch rail with a 6d angle. Team 14210 used the site provided launch rail. Team 14212's green rocket landed in a tree, and they could not complete their qualification flight.

Objectives

Two launches for each team, test or qualification flights:
Team 14209 - new rocket, motor E28-7T/F30-6FJ
Team 14210 - single use motor E20-7W
Team 14211 - reloadable motor F30-6FJ
Team 14211 - reloadable motor E28-7T



(no picture of Team 14209 black rocket)
Lessons

Team 14209 tried out their new rocket with an E28-7W, and then an F30-6FJ. They need to settle on a weight for either motor. Qualification time is running out.
Team 14211 had two launches with the E20 motor over 825ft. Their descents were strange - the first one really floated, so they put a two inch spill in both. In the second flight one chute didn't deploy and tone egg broke on landing. They need to practice their chute packing.
Team 14210 had two nice flights and completed their qualification flights. The flights were nice but a little high and the second one floated a little. They switched motor lot numbers for the second flight. They may have had inconsistency in the motors.
Team 14212 conducted two flights with an E28-7W motor. Both were a little low and the second one came down very fast. It landed in a tree and could not be counted as a qualification flight. We recovered the rocket the next day and thankful it didn't count..
The wind caused problems with the descent times. There was considerable vertical air movement and the rockets floated down in the strong wind.
We traveled back to the launch site on Sunday, March 16, to recover Team 14212's rocket. We used an arrow with a fishing line attached, shot over the branch. We attached a 200ft rope to the arrow end of the fishing line and reeled in the line. The rope went over the branch. We pulled down and ripped the rocket off the branch. Everything was recovered with minor damage

Team 14211 has completed their qualification lunches with an average of 40.15 on their two best launches. Because of their flight in February, they finish with a score of 39.15. The other three teams have two flights left, but time is growing very short.
Launches
Rocket
Engine
Rail
Cargo
Recovery
Weight
Results
Comments
Black flight 1
Team 14209
E28-7W
7ft 6d
2 eggs,
altimeter 6
2-15" Round
423g
754ft,
57ec
video, nice flight but too low, floating descent
Black flight 2
Team 14209
F30-6FJ
7ft 6d
2 eggs,
altimeter 6
2-15" Round
470g?
882ft,
50sec
video, nice flight but too high
Blue flight 1
Team 14211
F30-6FJ
7ft 6d
2 eggs,
altimeter 5
2-15" Round
482g
845ft,
46.16sec
video, nice flight,
Qualification Score: 27.26
Blue flight 2
Team 14211
F30-6FJ
7ft 6d
2 eggs,
altimeter 5
2-15" Round
490g
873ft,
56.61sec
video, nice flight, but too high
Qualification Score: 74.44
India flight 1
Team 14210
E20-7W
7ft 3d
2 eggs,
altimeter 1
2-15" Round
354g
833ft,
80sec
video, nice flight, but really floated
India flight 2
Team 14210
E20-7W
7ft 3d
2 eggs,
altimeter 1
2-15" Round
2" Spill
354g
861ft,
31sec
video, only one chute deployed, descended fast, egg broke
Qualification Score: 104 DQ
Green flight 1
Team 14212
E28-7T
7ft 6d
2 eggs,
altimeter 4
2-15" Round
419g
788ft,
47ec
video, nice flight, but low
Green flight 2
Team 14212
E28-7T
7ft 6d
2 eggs,
altimeter 4
2-15" Round
417g
772ft,
34.92sec
video, too low, descended too fast,
landed in tree, recovered next day
Qualification Score: Didn't Count
Altimeter Data (Excel format)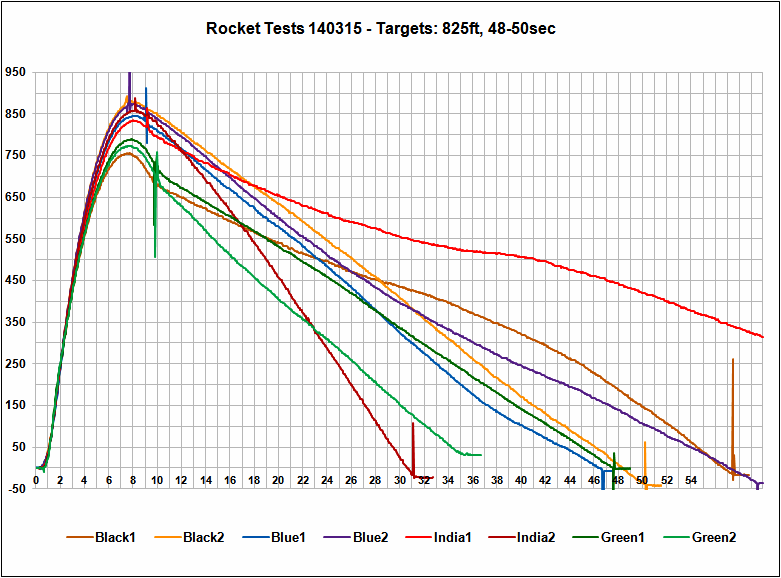 Pictures
Preparation More Preparation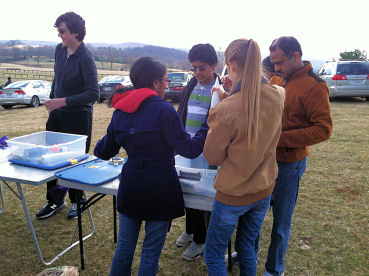 And More Preparation Loading the Rocket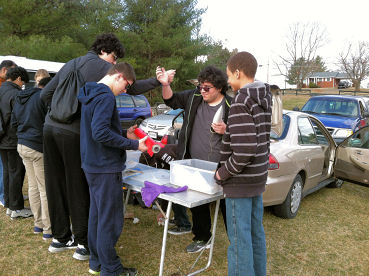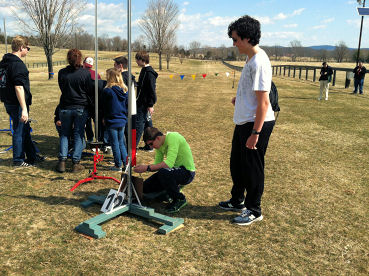 Teams 14210 Team 14211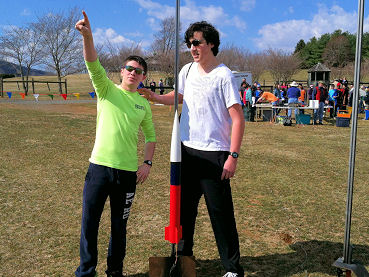 Teams 14212 Rocket in a Tree