On Saturday, February 22, six members from three teams traveled to a Great Meadows VA launch site to practice and get an early qualification flight registered. The weather changed considerably while we were at the site. When we arrived, it was cold (40d) and windy (13mph); when we left 4 hours later it was warm (55d) and almost no wind. We used the 7ft launch rail, and started with 6d angle and increased to 10d for the final round of flights.

We conducted 5 flights. Team 14210 landed their test flight in a tree and recovered only the cargo unit. They could not complete their qualification flight.

Objectives

Two launches for each team, a test flight and a qualification flight:
Team 14209 - single use motor F24-7W
Team 14210 - single use motor E20-7W
Team 14211 - reloadable motor F30-6FJ
Lessons
We had problems with the launch rail angle. It was hard to match the changing weather conditions and the requirement to angle away from the cars. Next time we need to use a level to measure the angles.
Team 14211 had two nice flights, following a rebuild of their booster after the CATO on Monday. Their first flight was a great score, but cocked into the wind. The second flight was very straight but too high for a great score. They used motors with a high lot number and avoided the lot umber of the CATO motor.
Team 14209 conducted two flights of their rear ejection gold rocket. The wind caused sever cocking into the wind. The ejection worked fine, but very late. They may want to try trimming the fins, drilling the delay element, or changing motor. They should also start building another style rocket. While they didn't break any eggs during the flight, they need to be more careful when handling the eggs before and after the flight.
Team 14210 had a reasonable launch with their E20 motor, but it drifted across the main road in into a tree over a private garage. We tried to get it down with the 30ft pole but only got the cargo unit back. They were not able to do a qualification flight. They need to remake the booster as light as possible to stay with the E20 motor. They need to get down to around 350g. They may also want to put a spill hole in the chutes to get a quicker descent.
Launches
Rocket
Engine
Rail
Cargo
Recovery
Weight
Results
Comments
Blue flight 1
Team 14211
F30-6FJ
6ft 6d
2 eggs,
altimeter 5
2-15" Round
465g
823ft,
47sec
video, nice flight, slight cock into wind
Blue flight 2
Team 14211
F30-6FJ
7ft 10d
2 eggs,
altimeter 5
2-15" Round
472g
873ft,
51.28sec
video, straight flight,
Qualification Score: 53.04
India flight 1
Team 14210
E20-7W
7ft 8d
2 eggs,
altimeter 1
2-15" Round
359g
736ft,
47sec
video, nice flight, but hung in tree far away, partial recovery of cargo
Gold flight 1
Team 14209
F24-7W
7ft 6d
2 eggs,
altimeter 4
2-15" Round
474g
580ft,
34ec
video, severe cock into wind, late deployment
Gold flight 2
Team 142092
F24-7W
7ft 10d
2 eggs,
altimeter 4
2-15" Round
457g
654ft,
29.55sec
video, cock into wind, late deployment, altimeter failed to record descent
Qualification Score: 244.80
Altimeter Data (Excel format)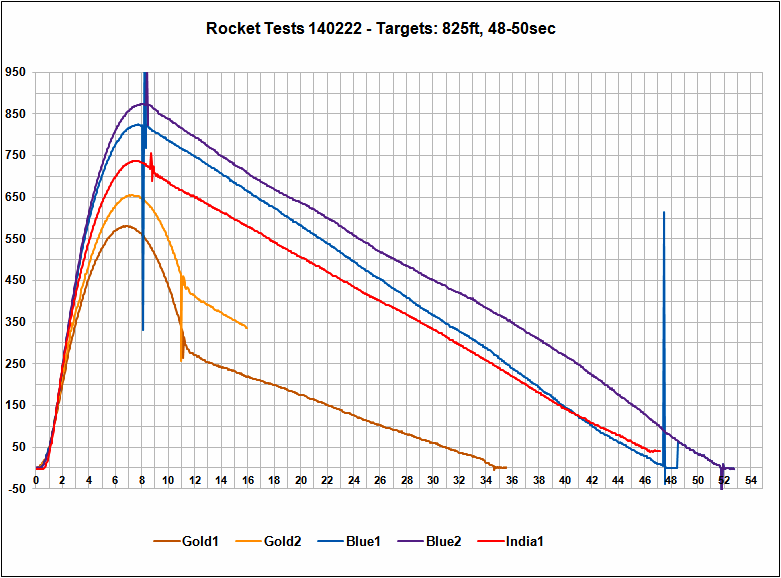 Pictures
Teams 14209 and 14211 Team 14210