On Saturday, December 28, five members from two teams traveled to the Maryland launch site to practice launches. It was a nice sunny day, about 50f, and wind below 8mph. We used the 7ft launch rail, set to about 5d with the wind.

We completed four launches during a 2 hour launch window. We recovered all the rockets, although some landed close to the pond.

Objectives

Try two launches for each team to narrow the best weight with the motors:
Team 14211 - single use motor F30-6FJ
Team 14212 - reloadable motor E28-7T
Practice assembling reloadable Aerotech motor E28-7T
Lessons
All the launches were relatively straight, all rockets were recovered, and the teams worked well together. We need to get the other two teams out to a launch.
We had no igniter failures, no spitting, good ignitions.
The chute configurations worked OK, but the blue rocket (Team 14211) seemed to have some tangled chutes. It came down too fast. They need to make the line between the booster and cargo longer, more distance between chutes, and perhaps use the new chutes. The green rocket (Team 14212) seemed to have a better deployment. Their last flight had the chutes float a bit too much. It may have been the thermals from the sun warming up the field.
All the motors worked OK, even the ones that were assembled. We have enough data to set target weights for both teams.
Both teams are ready to try a qualification launch. Team 14212's second launch had a TARC score of 7.
Launches
Rocket
Engine
Rail
Cargo
Recovery
Weight
Results
Comments
Blue flight 1
Team 14211
F30-6FJ
7ft 5d
2 eggs,
altimeter 5
2-15" Round
497g
782ft,
42sec
video, Straight flight, chutes deployed OK
Blue flight 2
Team 14211
F30-6FJ
7ft 5d
2 eggs,
altimeter 5
2-15" Round
469g
858ft,
42sec
video, Straight flight, chutes deployed a little tight
Green flight 1
Team 14212

E28-7T
7ft 5d
2 wood eggs,
altimeter 3
2-15" Round
416g
785ft,
44ec
video, Straight flight, a little low
Green flight 2
Team 14212
E28-7T
7ft 5d
2 wood eggs,
altimeter 3
2-15" Round
415g
826ft,
52sec
video, Straight flight, chutes floated some
Altimeter Data (Excel format)

Pictures
Team 14211 Team 14212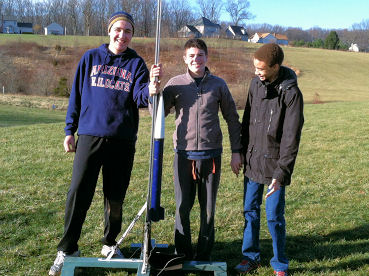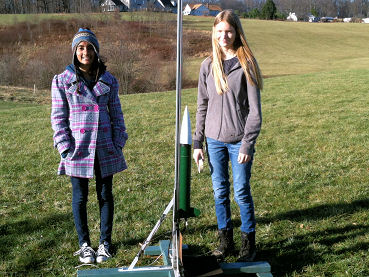 Preparing the Rockets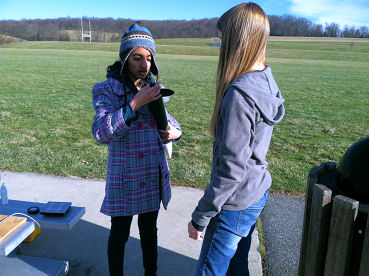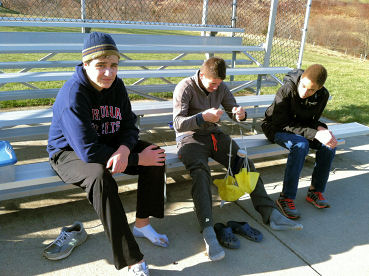 Loading the Rockets