On Saturday, November 16, twelve members from all four teams traveled to the Maryland launch site to practice launches. Unfortunately, Team 3's rocket was not ready. It was a cloudy day, about 60f, and wind below 8mph. We used the 6ft and 7ft launch rails to speed up the launches. We did not try to compensate for the wind.

We completed six launches during a 2 hour launch window. We recovered all the rockets. The dual chute deployments proved to be our major issue, so we broke several eggs.

Objectives

Try two chute deployment where the chutes are tied to the line between the cargo and booster.
Practice assembling reloadable Aerotech motors (E28, F24)
Help the new members develop their skills in launching and recovery of model rockets



Lessons

All the launches were relatively straight, all rockets were recovered, and the teams worked well together. Good job.
The new chute configuration worked with three of the four launches. Need to consider how they were packed, but this looks good.
For the rear ejection, one launch deployed only one chute, and the other launch deployed while on the stand. It hooked the burn protection on the launch rail and held the rocket down. The chutes were terminally damaged.
All the motors seemed to work OK, even the ones that were assembled. We got some good data on launch weights and power, but all the altitudes were under the 825ft target.
We had had no igniter failures, but we did have some "spitting" and delayed launch.
Launches
Rocket
Engine
Rail
Cargo
Recovery
Weight
Results
Comments
Gold flight 1
Team 1
F24-7W
7ft 0d
2 eggs,
altimeter 4
2-15" Round
518g
589ft, 25ec
video, Flew straight, lat ejection, only one chute deployed
Gold flight 2
Team 1
F24-4W
7ft 0d
2 eggs,
no data
2-15" Round
451g
0ft,
0ec
video, Chute fell out on ignition, held rocket on rail, need new chutes
Green flight 1
Team 4

E20-7W
7ft 0d
2 eggs,
altimeter 3
2-15" Round
413g
694ft, 43ec
video, Nice flight, need more thrust
Green flight 2
Team 4
E28-7T
6ft 0d
2 eggs,
altimeter 3
2-15" Round
421g
780ft, 52sec
video, Nice flight, need more thrust, funny drift on descent
India flight 1
Team 2
E20-7W
6ft 0d
2 eggs,
altimeter 5
2-15" Round, 2" spills
395g
700ft, 26sec
video, Flew straight, chutes tangled
India flight 1
Team 2
E28-7T
6ft 0d
2 eggs,
altimeter 5
2-15" Round, 2" spills
400g?
793ft, 45sec
video, Nice flight
Altimeter Data (new electronics) (Excel format)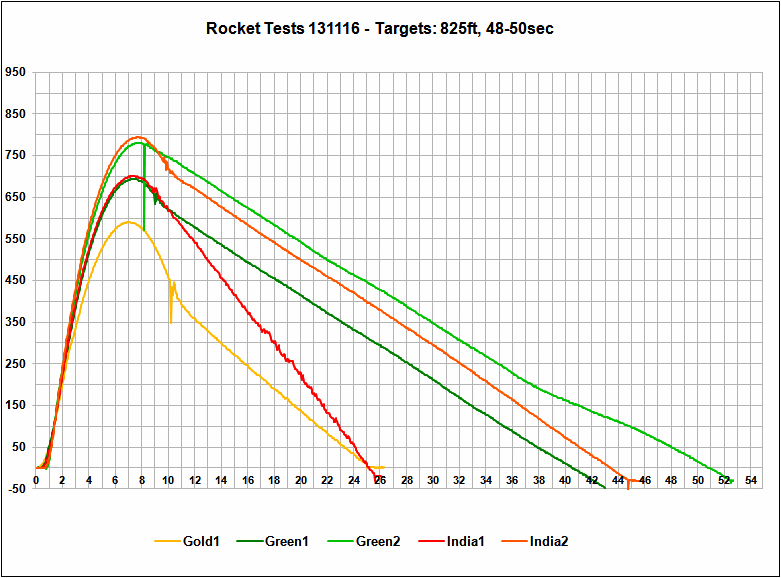 Pictures
Team 1 Team 2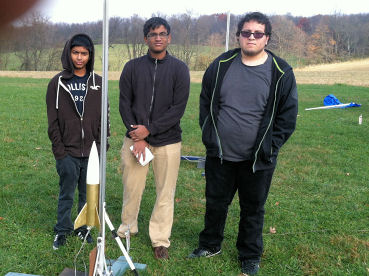 Team 4