On Saturday, October 19, twelve members from all four teams traveled to the Maryland launch site to practice launches. It was a cloudy day, about 60f, and wind below 8mph. We used the 6ft and 7ft launch rails to speed up the launches. We did not try to compensate for the wind.

We completed five launches during the 2 hour launch window. We had to wait for the kids soccer teams to complete their games. We recovered all the rockets.

Objectives

Try several different ways to deploy two parachutes.

Cargo unit separates chutes
One chute on cargo, other one on booster
Rear ejection

Get data on E and F motors (E20, F24, F39, F32)
Help the new members develop their skills in launching and recovery of model rockets


(no picture of the Purple rocket)





Lessons

All the launches were relatively straight, all rockets were recovered, no eggs were broken, all ejections worked as planned, and the teams worked well together. Good job.
We tried three chute configurations. Some were successful, and some had problems. This is the major engineering question in this year's challenge. It is clear we need at least 15inch chutes.
All the motors seemed to work OK, even the ones that were assembled in 2009 and 2010. The ratios of power to weight will require more work, but all the altitudes were over the 825ft target.
We had several failures of igniters. We need to put stoppers in the nozzle to increase the ignition rates.
We had one failure of an altimeter. It might have been blocked by egg padding. We need another test to determine if the altimeter is bad. We will order more altimeters as soon as we are registered.
The videos could have been better. Anyone want to take this on as a project?
Launches
Rocket
Engine
Rail
Cargo
Recovery
Weight
Results
Comments
Red flight 1
Team 4

E20-7W
6ft 0d
2 eggs,
altimeter 3
2-15" Round
346g
863ft, 39ec
video, Flew straight, chutes were tangled
Yellow flight 1
Team 3
F32-6T
7ft 0d
2 eggs,
altimeter 1
2-15" Round
554g
920ft, 48sec
video, Flew straight, igniter issues, good deploy
Purple flight 1
Team 2
F24-4W
6ft 0d
2 eggs,
altimeter F
2-15" Round
440g
881ft, 53sec
video, Flew straight, igniter issues, good deploy
Gold flight 1
Team 1
F32-6T
7ft 0d
2 eggs,
no data
2-12" Round
502g
980ft, 44ec
video, Flew straight, igniter issues, altimeter failed
Orange flight 1
Team 4
F39-6T
6ft 0d
2 eggs,
altimeter J
2-15" Round, 2" spills
452g
900ft, 48sec
video, Flew straight, one chute deployed late
Altimeter Data (new electronics) (Excel format)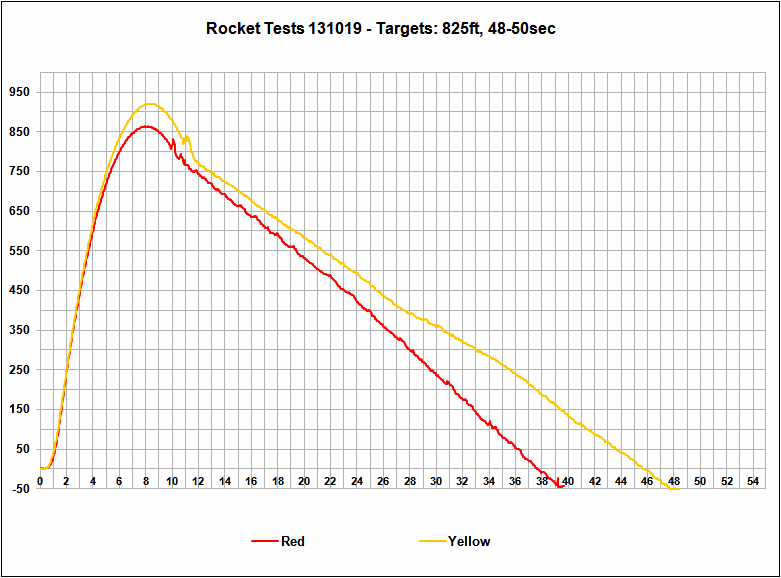 Altimeter Data (old electronics) (Excel format)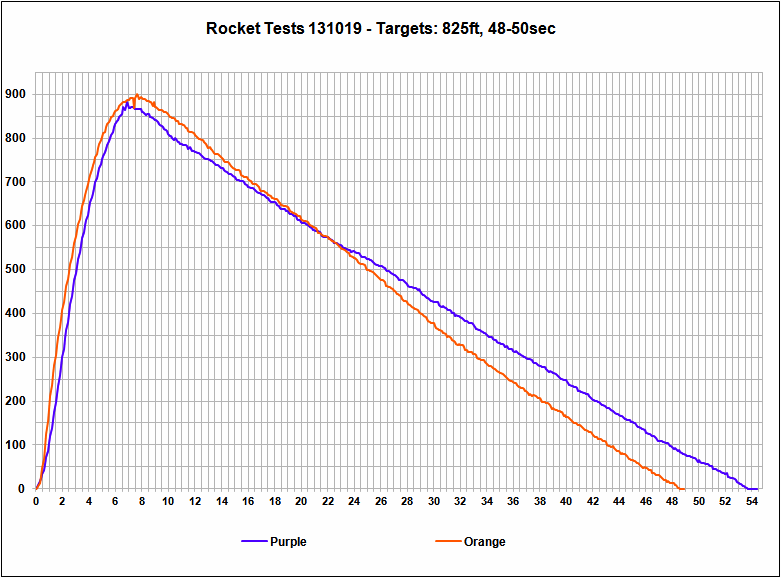 Pictures
Team 1 Team 2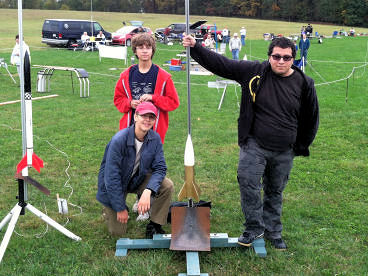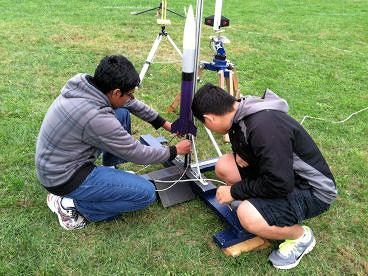 Team 3 Team 4