On Saturday, August 17, one member of our project traveled to the Maryland launch site to try out some experiments with two parachutes. The weather was great. We had prepared the rockets the week before the launch.

We completed two launches (one for each rocket) during a 2 hour launch window. We recovered all the rockets, but had issues with the dual chute deployments.

NARHAMS conducted a special multiple rocket launch - see the video.


Objectives

First flight of the rear deployment Big Daddy rocket.
Try two chutes one on cargo and one on booster with an old rocket.
Lessons
The gold rocket (rear deployment) did not deploy smoothly, and it came down too fast. We definitely need bigger chutes (and bigger deployment tubes).
The yellow rocket shock cord broke free of the booster. The shock cord needed to be much longer (3-4ft). The descent rate is not representative of the complete rocket coming down with two chutes.
The E20 motors were not powerful enough to reach the 825ft. We need to get the weight down around 350g, or get more powerful motors.
The altimeter for the gold rocket failed to record the flight. We added it to the yellow rocket and found it does work. The conclusion is that the air holes on the gold rocket were too small or blocked.
Launches
Rocket
Engine
Rail
Cargo
Recovery
Weight
Results
Comments
Gold rocket

E20-7W
7ft 0d
2 eggs,
altimeter 2
2-12" Round
400g
~700ft, 34ec
video, altimeter failed, deployment unsure, one chute may have tangled
Yellow rocket
E20-7W
7ft 0d
2 eggs,
altimeter 1
altimeter 2
2-12" Round
414g
651ft, 31sec
video, straight flight, good data for both altimeters, deployment broke connection to launch lug
Altimeter Data (Excel format)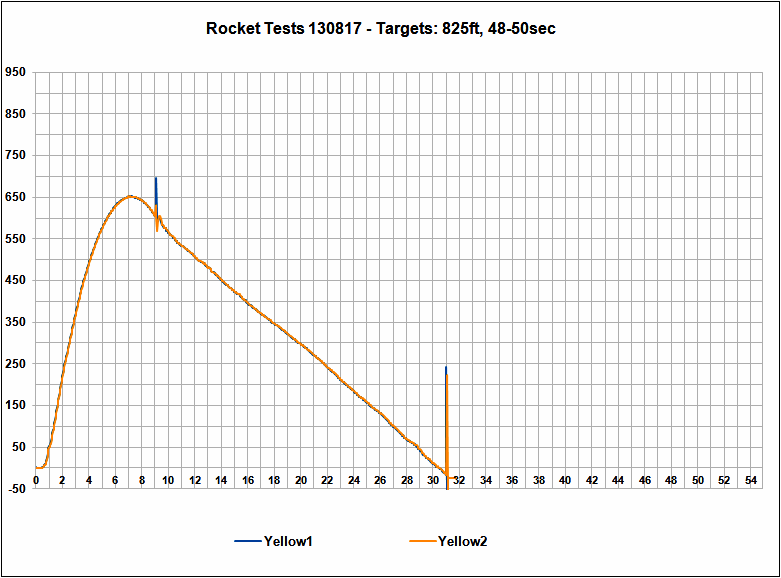 Pictures
Our small team Loading the rocket