Five members from all three teams and several adults again traveled to the Fulton launch site on Saturday, January 19. It was cold (35f), but clear and sunny, with wind under 5 mph. The wind picked up a little toward the end of the launch. We used the 7ft launch rail for the red and yellow rockets, and the 6ft launch rod for the special rocket. We had some successful launches and all rockets were recovered. The field was very muddy.

Objectives

Team 13254 wanted to see if the extension made their yellow rocket stable.
Team 13255 wanted to see if their extension and added weight would lower their altitude.
Team 13256 wanted to see if their special rocket would work.


Lessons

The extensions on the red and yellow rocket seemed to work, but may have created the wobble if not centered.
Team 13256 special rocket didn't work well. They need a new design.
The added weight worked to bring down team 13255's altitude. Their target weight should be 393g.
Team 13255 needs to work on getting the streamer to deploy.
We had some igniters from the E20 package fail. We might try some Quest igniters.
We need to angle the launch rail even in light wind.
No eggs were broken.
Launches
Rocket
Engine
Rail
Cargo
Cargo
Recovery
Booster Recovery
Weight
Results
Comments
Red test 1
Team 13255
video
E20-7W
3d
1 egg,
altimeter 2

15

"

Round

6x60" Streamer
372g
162g

768

ft, 49sec
Flew into wind, some wiggle, streamer didn't deploy
Red test 2
Team 13255
video
E20-7W
6d
1 egg,
altimeter 2

15

"

Round

6x60" Streamer
392g
162g

753

ft, 56sec
Straight, some wiggle, streamer didn't deploy


Yellow

test 1
Team 13254
video
E20-7W
6d
1 egg,
altimeter 1

15

"

Round

6x60" Streamer
362g
156g
801ft, 45sec
Straight, some wiggle, good recovery

Special

test 1
Team 13256
video
E20-7W
3d
1 egg,
altimeter ?

15

"

Round

Connected
500g

287

ft, 11sec
Unstable, flew off to side, deployment at last second
Altimeter Data (Excel format)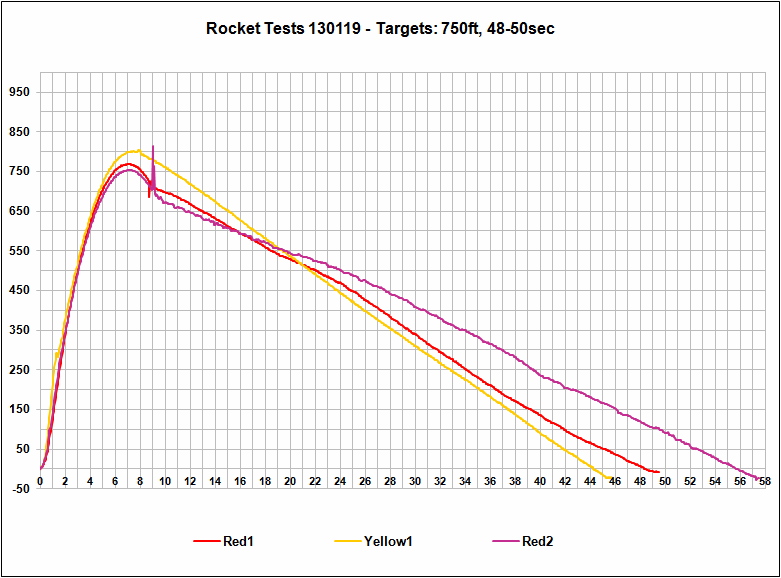 Team 13255 Team 13254 Team 13256