Six members from all three teams and several adults traveled to the National Pike Park launch site on Saturday, November 17. It was clear, with wind around 10mph. We used the 7ft launch rail for all the launches. We used rockets from two years ago to .test our processes and motors. We also flew a strange rocket built by Sam and Michael last spring (video).

Objectives

We wanted to test the E20-7W motors.
Practice the launch process.

Lessons

The E20-7 motors will get our rockets to 750ft easily.
We need to work on packing eggs in the nose cones.
Angling the launch rail with the wind straighten out our launches.
The altimeters registered that the rockets landed in a valley and on a hill (see the chart).
Launches
Rocket
Engine
Rail
Cargo
Cargo
Recovery
Booster Recovery
Weight
Results
Comments
Red test 1
video
E20-7W
8d
1 egg,
altimeter 1

15

"

Round

6x60" Streamer
343g
167g

870

t, 60sec
Straight flight, but cracked egg

Yellow

test 1
video
E20-7W
8d
wood egg,
altimeter 3

15

"

Round

6x60" Streamer
327g
151g

965

ft, 54sec
Straight flight

Purple

test 1
video
E30-7
8d
1 egg,
altimeter 2

15

"

Round

6x60" Streamer
329g
117g
867ft, 49sec
Straight, nice flight
Altimeter Data (Excel format)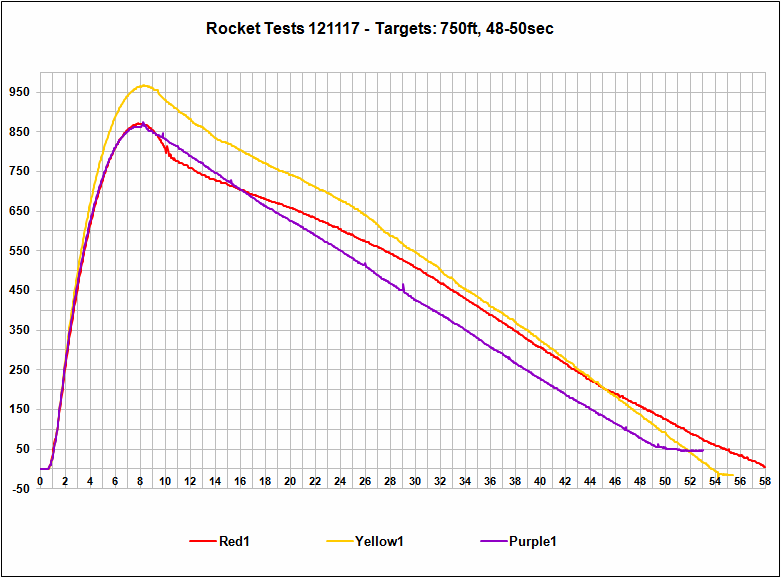 Team Loading