Eleven members and several adults traveled to the Virginia launch site on Saturday, February 18. It was a nice day, but with wind around 10mph. We used the 7ft launch rail for all the launches, but setup the 6ft launch rail. We had some very nice launches and all rockets were recovered. Each team did three launches. We completed four qualification launches. We are ready for final qualification launches in March.

Objectives

Complete at least one qualification launch for each team.
Refine the parachute used by Team 13198.
Teams 13198 and 13199 will use the new altimeter.

We edited the three launches per team together to better review the launch angles.

Team 13198 Launch Video
Team 13199 Launch Video
Team 13200 Launch Video


Lessons
We angled the rail 5 degrees with the wind. The flights were mostly straight. We needed to reset to 10 degrees as wind picked up. Team 13199 (purple rocket) needs more angle than other teams.
Team 13198 found the 18in standard chute worked best, but it descended a little fast, and the altitudes were a little high.
Team 13199 flew a little low due to wind cocking. They also had some wobble which may have been a problem with the nose cone alignment or interior object placement.
Team 13200 had the cargo unit break away at ejection. The parachute connection clip was connected to the booster clip, and not the cargo unit which may have exceeded the clip rating.
All the eggs returned except the eggs in Team 13200 free falling cargo unit. We need to be more careful when disposing of broken eggs. We may want to tape the baggies closed.
We had one long Quest igniters failure with Teams 13199 and 13200. Team 13198 used the copper heads.
Teams 13198 and 13199 used the new altimeters. Both had serious spikes at ejection, especially Team 13198. We need to think about this issue.
All the rockets came down in the northeast field, except the first blue rocket booster which overflew the tree line.
When using the scale, you should "tare" the scale every time you use it.
We should be weighing our motors and eggs. The motors can have as much as a gram difference which could be 2% power difference. And eggs can vary between 57 and 63 grams.
Some teams are forgetting to record their data!
We need a stool for the 7ft launch rail.
Bob forgot to set the video focus to manual so all the descent video was out of focus.
We added data to the comparison.xls graph. Looking to add a fudge factor due to non-straight flights.
Black Rocket Team 13198 Purple Rocket Team 13199 Blue Rocket Team 13200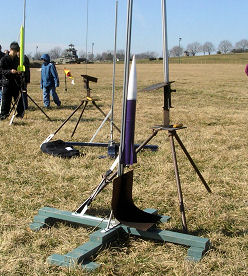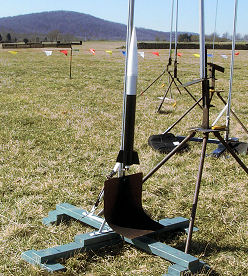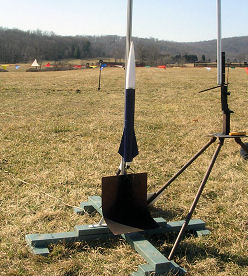 Launches
Rocket
Engine
Cargo
Cargo Recovery
Booster Recovery
Weight
Results
Comments
Black
test 1

E30-7T

2 eggs,
altimeter M
24" X-chute
connected

386g

800ft, 52sec
Nice flight, too much chute
Score 15
Black
test 2

E30-7T

2 eggs,
altimeter M
18" X-chute
connected
384g
821ft, 38sec
Nice flight, too little chute
Score 36
Black
test 3

E30-7T

2 eggs,
altimeter M
18" chute
connected
391g

816ft, 42.23sec

Nice straight flight
Qualification Score 18.31

Purple


test 1
E30-7T
2 eggs,
altimeter L
24" X-chute
connected

370g

815

ft, 49sec
Nice flight
Score 21

Purple


test

2

E30-7T
2 eggs,
altimeter L
24" X-chute
connected

379g

770ft, 46.37sec

Some wobble off launch rail
Qualification Score 30.00

Purple


test

3

E30-7T
2 eggs,
altimeter L
24" X-chute
connected

374g

747ft, 44.57sec

Wind cock at apogee
Qualification Score 53.00

Blue


test 1

E30-7T

2 eggs,
altimeter F
24" X-chute
connected

371g

803ft, 21sec

Straight flight, cargo broke away
No Score

Blue


test 2

E30-7T

2 eggs,
altimeter F
24" X-chute
connected

378?g

775ft, 42sec
Little wobble
Score 28

Blue


test 3

E30-7T

2 eggs,
altimeter F
24" X-chute
connected

378?g

768ft, 42.67sec
Little wobble, official 778ft
Qualification Score 22.99
Altimeter Data New Altimeters (Excel format)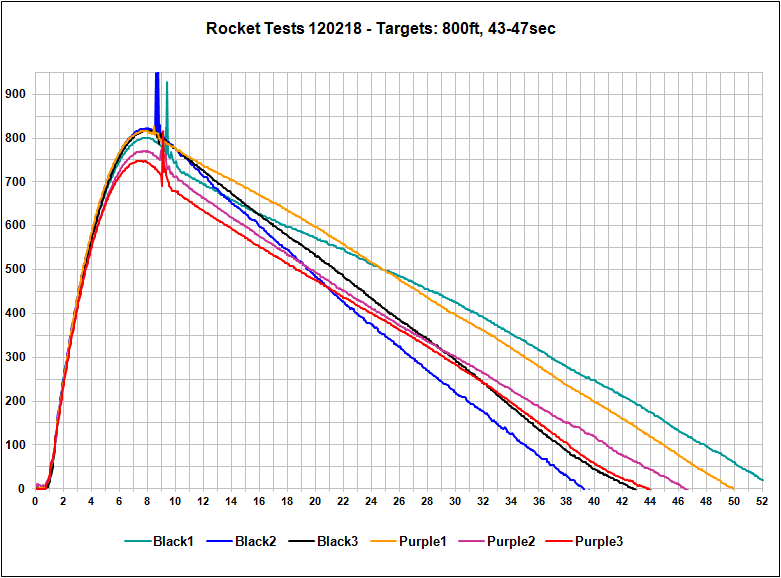 Altimeter Data Old Altimeters (Excel format)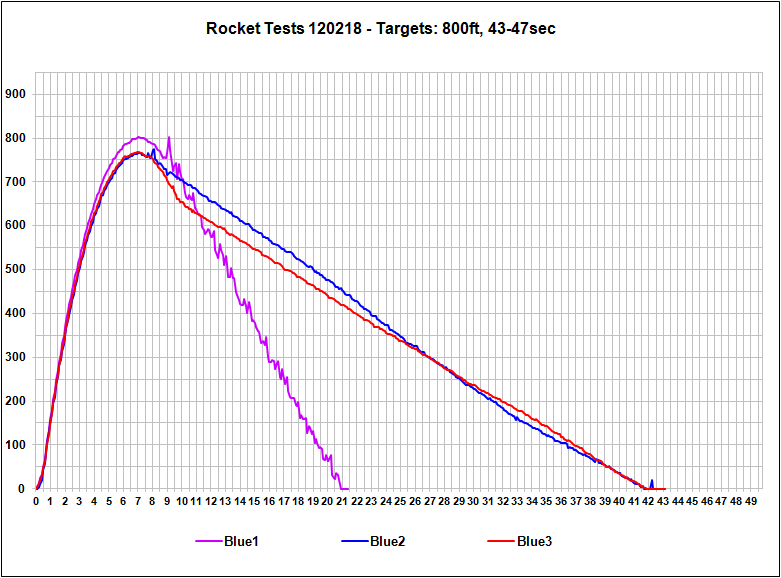 Team 13198 Team 13199 Team 13200