Eleven members, one alumni, and two adults traveled to the Maryland launch site on Thursday, December 29. It was a cold day (40f) with light wind, and some light snow. We used the 7ft launch rail, the 6ft launch rod, and the small rocket launch rods. Les Cannon launched two of his personal rockets. The blue rocket had an interesting landing. The red rocket cargo unit landed on the ice covered pond. We perfected a rope and rock recovery technique.

Objectives
Test Teams 13199 and 13200 rockets with more E30-7Ts. We need to add to our data.
See if Team 13200 new cargo unit reduces the wobble launches.
First flight of Team 13198 cylinder rocket.
Focus on our E30-7T ignition and ejection time.
Try the light weight 18 inch X-chute.
Lessons
Team 13198 cylinder fin rocket flew very straight.
Team 13198 needs a bigger motor. They should try the F32-6W.
Team 13200 new cargo unit did not correct the wobble. They need a new booster.
The 9 second ejection time is workable with the E30-7T.
The 18 inch X-chute is too small. The descent rates were too high. We should try the 24 inch X-chute.
Team 13199 needs to better protect their chute. Team 13200 did it right.
We had some problems egg protection. Teams 13199 and 13200 broke some eggs in the cargo unit and after they removed them. We need to use more baggies to hold the eggs, and they need to be tight in the cargo units. This could be a very disappointing issue when they go for qualification.
We need to angle the launch rail with the wind to get a straight flight when windy. The prevailing opinion is one degree for every mph of wind.
All teams need to be building second rockets. The designs seem to be OK, but they need to be built to reduce weight.
We need to redo the weight to altitude graph with the new data. See the data added at comparison.xls.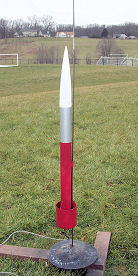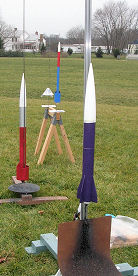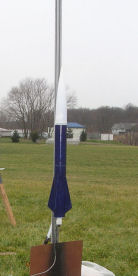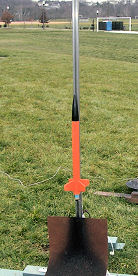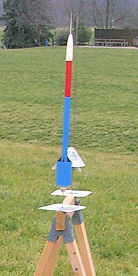 Launches
Rocket
Engine
Cargo
Cargo Recovery
Booster Recovery
Weight
Results
Comments

Purple


test 1
E30-7T
2 eggs,
altimeter K
18" x-chute
connected

366

g

842

ft, 37sec
video
Nice flight, 9sec ejection with spikes, burn marks on chute

Purple


test 2

E30-7T

2 eggs,
altimeter K
18" x-chute
connected

368?

g
773ft, 35sec
no video
Flew into the wind, lost altitude

Blue


test 1

E30-7T

2 eggs,
altimeter F
18" x-chute
connected

372

g
800ft, 37sec
video
Squirrely ascent, perfect altitude

Blue


test 2

E30-7T

2 eggs,
altimeter F
18" x-chute
connected

378

g
763ft, 47sec
video
Squirrely ascent, no burn marks, ejection spikes, speared booster

Red


test 1

E30-4T

2 eggs,
altimeter J
16" hemi
connected

484

g

575

ft, 33sec
video
Straight flight, booster broke away, tumble recovery

Red


test

2

F24-7W
2 eggs,
altimeter J
16" hemi
connected

501

g

711

ft, 26sec
video
Straight flight, very late deployment, possible issue with assembly
Altimeter Data (Excel format)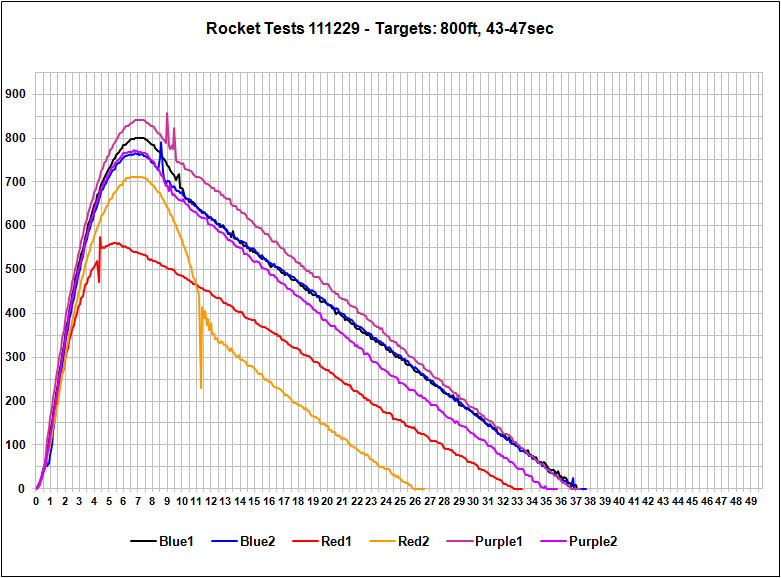 We flew several special rockets. Daniel Roh flew his initial cylinder fin model with a D motor. He got data from the H altimeter. The altimeter came out of the nose cone and he was lucky to find it in the field. The rocket landed far away. We have a video of the launch and some of the descent. Les Cannon flew several small models. We have a video of his small orange rocket.
Team 13198 Team 13199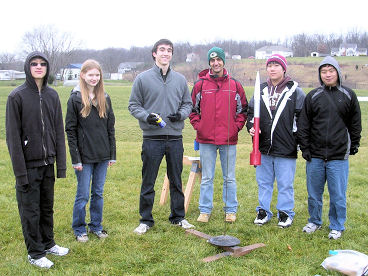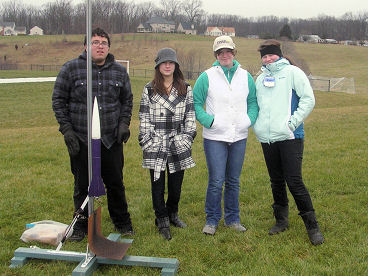 Team 13200