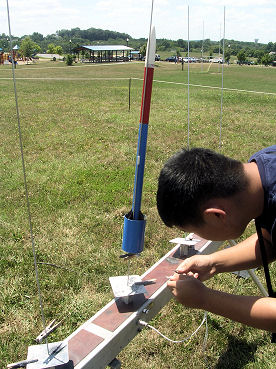 Two members traveled to the Maryland launch site on Saturday, July 16, to test various experiments in rocket design. It was a nice warm day with light wind. We had three launches.
Daniel's Tube (video) - This is a new and unique design. Used a D12-7 - nice flight. The design looks promising.
Ted's Two Stage (video) - We tried out a two stage rocket. It angled into the wind and was hard to find.
Anton's Recycled (video) - We launched a rocket from TARC 2011. It had a little trouble deploying the chute. It landed in a corn field and was difficult to find.
Look at this video of the walk through the corm field.
(All the videos have the launch on July 18, but it was really July 16.)
Objectives
Try some new design rockets.
Try last year design to meet TARC 2012 requirements.
Use up some motors from the last TARC project.
Lessons
We need a better recovery location system because of the corn and trees, We need the team deployed better and maybe an audible signal.
We could use last year's design to meet TARC 2012 requirements.
The tube fins seemed to work OK.
The video camera needs the sighting tube.