This year we will use 2.6in thin wall BT80 rocket tubes for all our rockets. This will allow us to have interchangable parts - cargo units nose cones, and and boosters. The egg and altimeter will be in a cargo unit, including the nose cone. We will also constrain ourselves to 24mm motors of the E and F class. This will help use get some consistency in the motor selections.
We have two design nose cones - elliptical and ogive. Estes makes inexpensive plastic nose cones in both these designs - PNC-80bb and PNC-80k. We also have available the Apogee BT80 nose cone. It is a little heaver than the Estes bu is a little longer and has more room for the egg.
Estes PNC-80bb Estes PNC-80k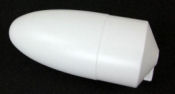 Apogee 20080





OpenRocket

To create the overall design and then simulate the launch, we will use OpenRocket (http://openrocket.sourceforge.net/).
We will post the team designs here as they become refined.