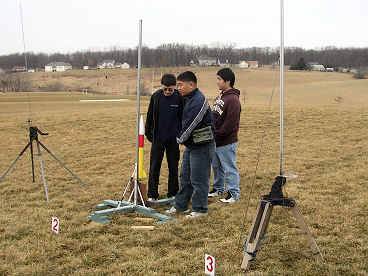 Six members from teams 9212, 91214, and 9215 traveled to the Maryland launch site on Saturday, February 26. Team 9213 was not able to participate. The weather was seasonable cold (45f) and the wind was very light (about 5mph). We used the long launch rail for all flights. The launch tower was angled about 3 degrees with the wind. We conducted eight test launches. Team 9212 (Yellow rocket) and Team 9214 (Purple rocket) took a try at early qualification.
Objectives:
Teams 9212 and 9215 will test new boosters.
Conduct one test and one early qualification flight for teams 9212, 9213, and 9214.
Look into parachute modifications to correct floating.
Lessons and Actions:
The launch tower was angled about 3 degrees with the light wind. All eight E30 flights were straight up.
All flights with the E30-7T were around 750ft. The weight of the rockets seems to be a critical factor for hitting 750. One gram appears to adjust the altitude about 3 feet. While the rockets are similar, the target weight to hit 750ft is different for each rocket.
None of the eggs cracked.
We continued to have problems with igniters. The AeroTech igniter clip worked OK, but we still had failures. We used some Quest igniters. We had one fire but fail to ignite the engine. We waste a lot of time and introduce risk with installing an igniter at the launch tower. We have no solution. When you go to the launch tower, you need to take at least one additional igniter.
We recovered all the rockets from the fields and the trees. The NAR members provided help with a long pole. Maybe we should buy one.
Used our new wind meter.
It became apparent that the terrain is important in the descent times. When we descend into the valley, the descent times go up about 2 seconds because of the extra 40 feet. This hurt us two weeks earlier, but this time it helped. We need to consider the terrain and the direction of the wind.
We tried two parachutes modifications. Team 9212 bound two shrouds together and it reduced the descent times by several seconds. We are not sure this is legal, but we weren't called on it. Team 9215 put 6 holes in their chute. It also reduced the descent time by several seconds. This is legal. Both modifications appear to have reduced the floating that we have seen in the past few weeks.
We produced detailed data analysis for weight predictions and parachute modifications.
Launches:

Team
Rocket
Engine
Cargo
Cargo Recovery
Booster Recovery
Weight
Results
Comments
9212

Yellow


test 1
E30-7T
egg,
altimeter J
15in hemi-chute
attached
370g
815ft, 57sec
(video)
New booster, too high, chute floated
9214
Purple
test 1
E30-7T
egg,
altimeter F
15in hemi-chute
attached
397g
713ft, 38sec
(video)
Nice flight, landed low in tree
9215
Maroon
test 1
E30-7T
egg,
altimeter H
15in hemi-chute
attached
387g?
734ft, 52sec
(video)
Old booster, squirrely flight, chute floated
9212

Yellow


test 2
E30-7T
egg,
altimeter J
15in hemi-chute
attached
397g
729ft, 49sec
(video)
Nice flight, chute floated
9214
Purple
test 2
E30-7T
egg,
altimeter F
15in hemi-chute
attached
385g
730ft, 39sec
(video)
Nice flight,
Qualification 23.03
9215
Maroon
test 2
E30-7T
egg,
altimeter H
15in hemi-chute
attached
395g?
706ft, 48sec
(video)
New booster, too low, chute floated
9212

Yellow


test 3
E30-7T
egg,
altimeter J
15in hemi-chute, choked
attached
392g
768ft, 39sec
(video)
Nice flight, no float
Qualification 19.80
9215
Maroon
test 3
E30-7T
egg,
altimeter H
15in hemi-chute,
w/ holes
attached
375g?
813ft, 44sec
(video)
No float
Altimeter Data (Excel format)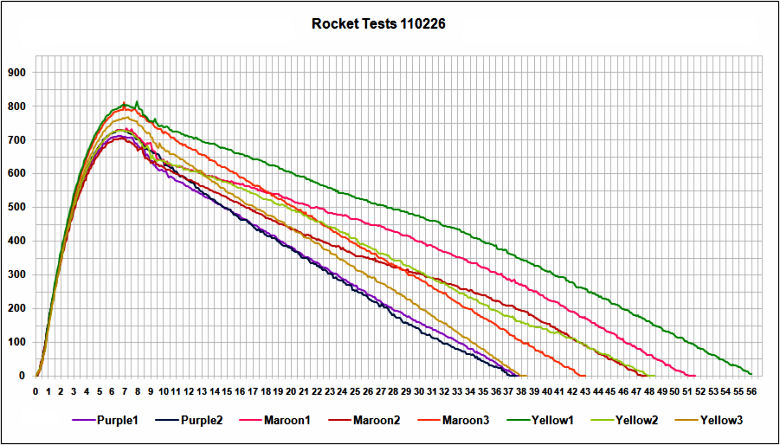 Pictures:

Maroon Rocket Yellow Rocket Purple Rocket