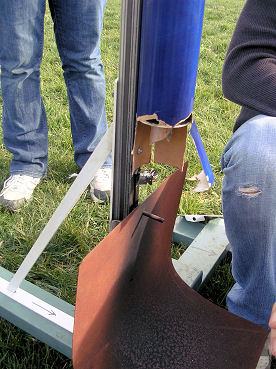 Eight members traveled to the Maryland launch site on Saturday, November 20, to test some new parachutes and give some new members a launch experience. It was a partly cloudy day with varying wind speeds (8mph to almost calm). We setup both launch rails but only used the new (tall) one. We conducted five launches. We left one booster in a tree, and one booster had a CATO. But we had three nice flights with the hemispherical parachutes.
The teams celebrated Bernadette's birthday at McDonalds. And Ted flew his Bat Rocket for one final flight (video).
Objectives
Lessons
The hemispherical chutes worked great. They appear to have less wind drift.
The descent rates are too slow if you deploy at apogee. We need to come up with ideas here.
The chute was too tightly wrapped on second Red rocket flight. Full deployment was delayed.

The CATO with the E30-7T may have been caused by

the Quest Q2G2 igniters. We need more research. We also need to report the CATO to NAR and Aerotech.

The E30 motors seem to reach 750ft with 400g in light wind. The F24 will be needed if we go over 400g.
When you have a separate booster recovery, always use a very small chute or streamer for the booster.
We need to return to the launch site to try a recovery of the Black rocket booster.
Launches
Team
Rocket
Engine
Cargo
Cargo Recovery
Booster Recovery
Weight
Results
Comments
9212
Black
test 1
F24-4W
egg,
altimeter E
15in chute
14in chute?
446g
813ft, 29sec
(video)
Cargo came down too fast. egg broke, booster drifted into tree
9215

Red


test 1
E30-7T
egg,
altimeter G
15in hemi-chute
attached
360g
858ft, 29sec
(video)
Nice flight, hemi chute didn't drift
9215

Red


test

2

E30-7T
egg,
altimeter E
15in hemi-chute
attached
371g
822ft, 44sec
(video)
Nice flight, chute came out, but deployed late
9214
Blue
test

1

E30-4T
egg,
altimeter

C

15in hemi-chute
attached

352

g
700ft, 48sec
(video)
Nice flight, altimeter spike to 738ft
9214
Blue
test 2
E30-7T
egg,
altimeter C
15in hemi-chute
attached
360g
0ft, 0sec
(video)
CATO on the rail, need new booster
Altimeter Data (Excel format)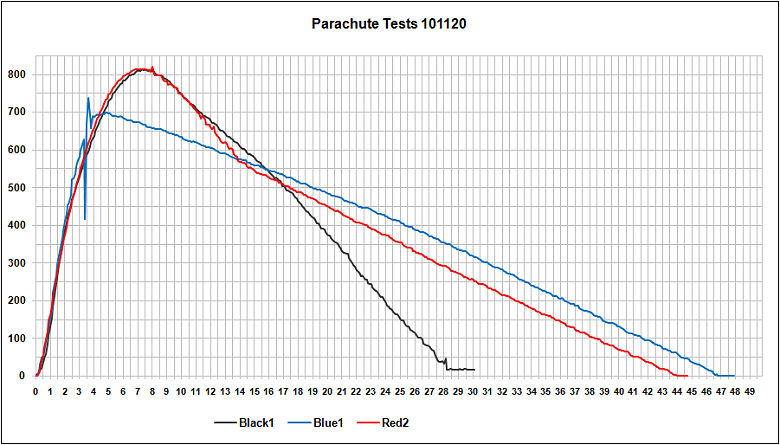 Pictures
Loading Black Rocket

Loading Red Rocket

Loading Black Rocket

Bernadette's Birthday

Party at McDonald's

CATO Results